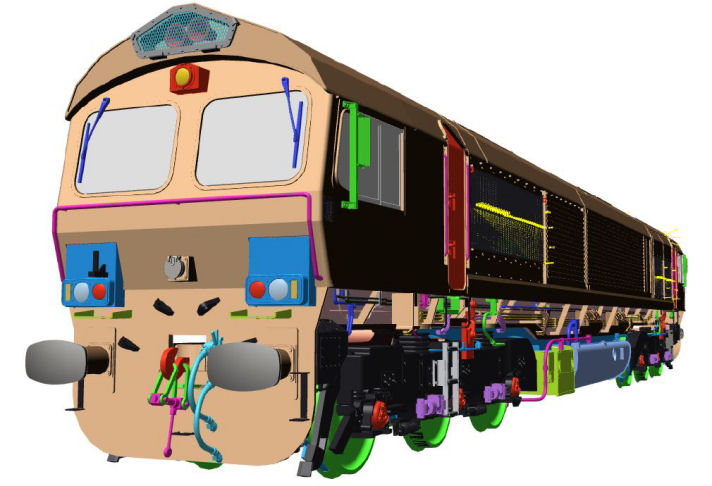 Dapol have announced the production of the Class 66 deisel. We have a list of the liveries being produced and the first test samples should be on display in approximately 6 months time. As to actual release date it is estimated to be the first half of 2021as these projects tend to take between 16 and 18 months to complete if everything goes smoothly.
So far we have had the preliminary CAD artwork but as and when I get more information I will update this page.
The Class 66 is a type of six-axle diesel electric freight locomotive developed in part from the Class 59, for use on the railways of the UK. Since its introduction the class has been successful and has been sold to British and other European railway companies.
The first locomotive shipped to the UK arrived at Immingham in June 1998, taken to Derby for testing. The second was taken to AAR's Pueblo Test Centre for endurance testing, before shipping to the UK. The locomotives then shipped at a rate of 11 per month into the UK via Newport Docks, until the order was completed in December 2001. After unloading, EWS engineers then simply took off the tarpaulin, unblocked the suspension, and finally as each was shipped with water and fuel, hooked up the batteries, before starting the engine and handing the locomotive into service. The ability to simply start up '66s' on the dockside and drive them under their own power to depots to enter service was nothing short of a revelation compared with many other BR locomotives.
The initial classification was as Class 61, then they were subsequently given the Class 66 designation in the British classification system (TOPS). In 1998 Freightliner placed an order for locomotives. They were followed by GB Railfreight, and then Direct Rail Services. The last of more than 500 built over an 18-year period was No 66779, Evening Star, delivered to GB Railfreight in spring 2016.

CLASS 66
. The Class 66 also features sprung buffers, sprung coupling hook and 3 link chain, internally painted cab detail, and directional lighting correct for the livery depicted.
The Dapol O gauge Class 66 will have the following features:
Electrical
Operating front/rear lights (independent operation for DCC, (switched for DC use) Includes day/night mode)
Operating 'side' lights (where lighting cluster is applicable)

Cab light (independent operation)

Illuminated cab control panel

Two motors (balanced & matched) for maximum pulling power and slow speed running control

DC control switches to be accessible via lift-off roof panel.

DCC Ready (21 pin) with DCC option available.
Chassis & Body
Etched grills with 'through body transparency
Separate detail (Handrails, Handles, Grills etc.)
Heavyweight Diecast chassis
Diecast bogie frames
Sprung centre wheel

Rotating axle centres

Appropriate couplings attached

O gauge society wheel profiles

Sprung buffers

Expertly applied liveries