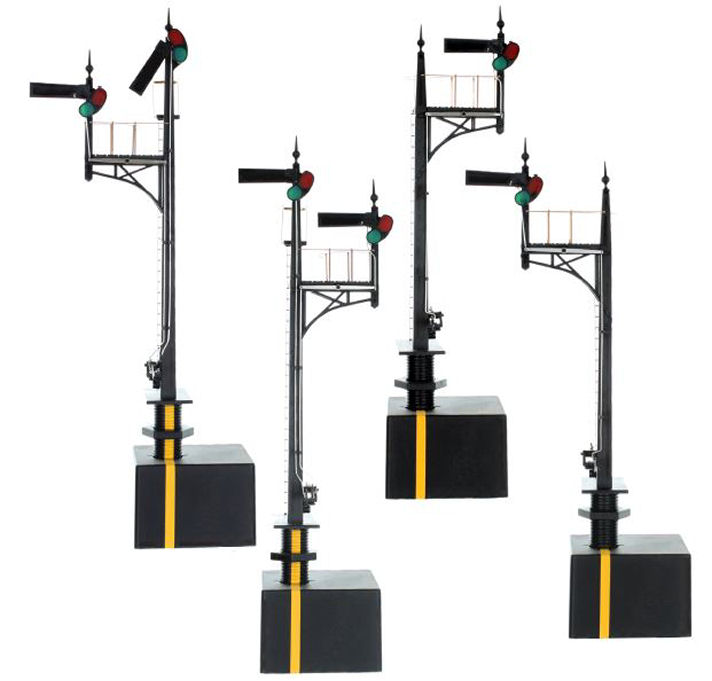 The GWR and LMS pattern signals from Dapol have been very popular and they have now produced GWR bracket / junction signals. These feature a new signal mechanism incorporating servo motors in a separately contained control unit that simply snaps onto the base of an installed signal. The clever design eliminates the need for wires between the base unit and the signal superstructure. The O Gauge Servo actuated signals come with almost everything you need to set them up in the box, all you need to really do is hook up an appropriate power supply. For the modeller who really doesn't like soldering there is a 2m plug and play extension cable (4A-000-014) available to help reach between the signal and your control centre. We are taking advance orders for these now for despatch as soon as they become available.
Each signal pack will include a signal superstructure, a control module (which houses the servo motors and controlling electronics.), pre-wired switch(s) along with a detailed set of installation instructions.
All signals work on 16 volt AC and feature:
Smooth operating worm driven motor tested to 30,000 operations
LED's with coloured lenses
Built in electronics for automatic reverse polarity after activation
Robust yet elegant and accurate design
Easy to install
Three of the standard version are currently available with the GWR round post version due to be released soon. The GWR square post and two LMS versions are now available for immediate despatch.
We stocks of both the extension cable and the DCC signal controllers which are suitable for use with the O gauge signals.