Dapol Tower Models Limited Edition Vans
These Dapol vans have always been popular and we always like to offer people the opportunity to obtain alternate numbers to enable poeple to build better rakes of wagons. We only produce 100 sets of each type and both the planked and plywood sets have been very popular.
We have now agreed with dapol a production of the brand new Vanwide and VEA wagons to coincide with the launch of these new vehicles around the middle of year and we are taking advance orders for these now for despatch as soon as they become available.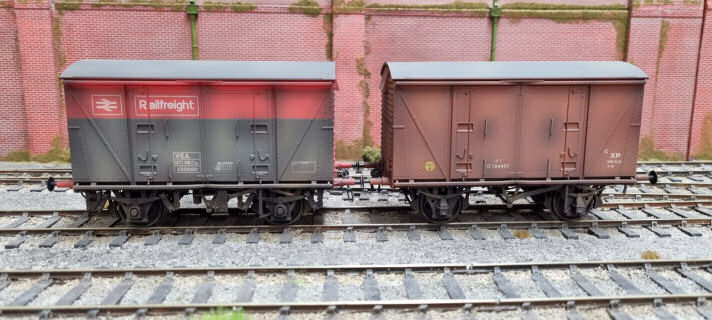 This was a Limited run giving customers the oppurtunity to build up a descent train of vans without having to wait years for alternate numbers to come out of Dapol and has proved especially popular. We currently have both sets of the planked and plywood wagons available but stocks are begining to run low on both types. We have also priced these to match the standard current price from Dapol.
A simple phone call or email can secure yours. We are also offering our weathering service on these for an additional £25.00 per vehicle with the customer's choice of light, light / medium, medium or heavy weathering if required.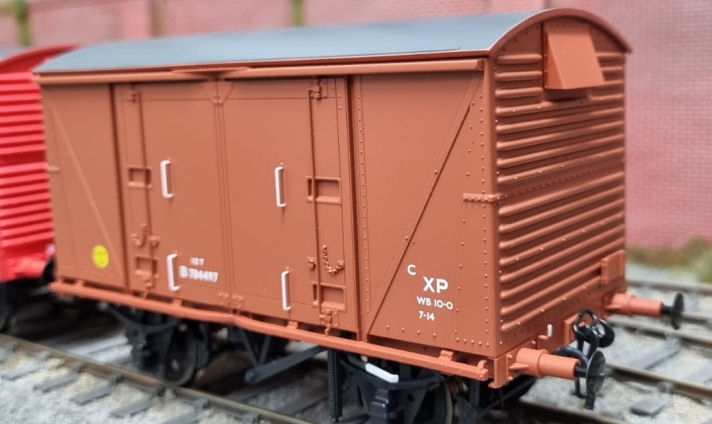 BR 12 Ton Diagram 1/217 Vanwide
Due to pressure from large customers BR developed a box van design with sliding doors, the Vanwide to Diagram 1/217, with standard dimensions of 17ft 6 inch length with a 10ft wheelbase. The sides were of plywood construction with flush doors that moved out slightly thus enabling them to slide down the sides, so alleviating the problem of confined locations. The end walls were made from corrugated metal sheeting. The door opening method made a door aperture of 9ft possible which aided loading of pallets by fork lift truck. It was this wider door opening that gave rise to the code name. The build was between Wolverton works and Derby works with nearly 2000 being built between 1961 - 1962
| | | | |
| --- | --- | --- | --- |
| Ref. | Description | List Price | Our Price |
| TOWWIDE1 | Set of 6 Diagram 1/217 vanwides - all different numbers in early bauxite livery | £351.54 | £295.00 |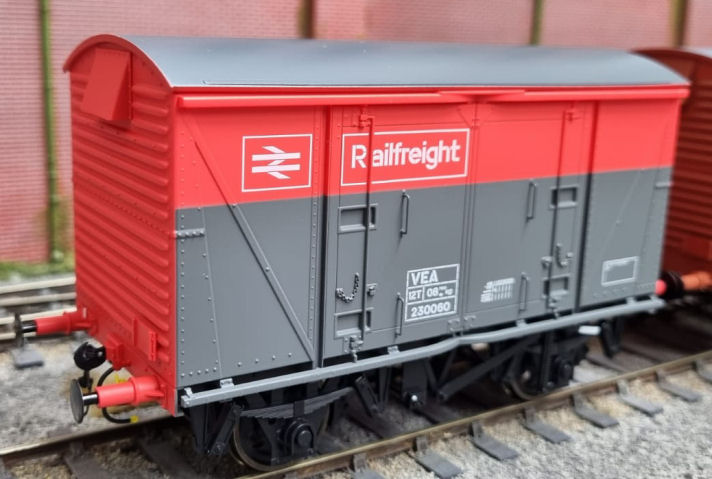 BR 12 Ton Diagram 1/217 VEA - Railfreight Red Grey
An initial batch of 50 vanwides were refurbished at Ashford Works in 1978. As well as being fitted with air-brakes, the suspension was upgraded to friction link standard to permit operation at 75mph. The vans were renumbered in the air-brakes series from 230000+ and given TOPS code VEA

Additional batches of VEAs were converted in 1981 (60 wagons numbered 230050-230109 to lot 3982), 1982 (290 wagons, 230110-230399, lot 4017) and 1983 (150 wagons, 230400-230549, lot 4028). The 1981 batch was produced by Horwich works, the remainder at Shildon. All 500 wagons wore the new Railfreight red grey livery.
Tower Models have also now bought all remaining stock of the Railfreight red grey brake vans that were recently released which are a perfect companion to this set.
| | | | |
| --- | --- | --- | --- |
| Ref. | Description | List Price | Our Price |
| TOWVEA1 | Set of 6 Diagram 1/217 VEAs - all different numbers in railfreight red grey livery. **LOW STOCKS** | £351.54 | £295.00 |

BR 12 Ton Diagram 1/208 Planked sided Vans
Over 17,000 of these vans were built in the 1950s to carry general merchandise traffic. The design has GWR features but without the characteristic roof profile and has the corrugated ends favoured by the LMS and LNER. Many were in service into the1980s.
| | | | |
| --- | --- | --- | --- |
| Ref. | Description | List Price | Our Price |
| TOWVAN1 | Set of 6 Diagram 1/208 planked vans - all different numbers **SOLD OUT** | SOLD | OUT |

BR 12 Ton Diagram 1/213 Plywood sided Van
These vans of which over 3,500 were built in the 1950s are similar to the above type but have plywood substituting for timber planks in the body and have an equivalent history lasting into the 1980's.
| | | | |
| --- | --- | --- | --- |
| Ref. | Description | List Price | Our Price |
| TOWVAN3 | Set of 6 Diagram 1/213 plywood vans - all different numbers | £299.70 | £255.00 |
Click Here to Return to the

index page