Dapol Tower Models Limited Edition Vans

The earliest BR liveries have always been the most popular livery for the BR plywood and planked vans. As such we thought people might appreciate the chance to buy sets of 6 of these all with different running numbers.
We are testing the water here and only 100 sets of each have been made.
Advance ordering is highly recommended, as it is a Limited run giving customers the oppurtunity to build up a descent train of vans without having to wait years for alternate numbers to come out of Dapol. We have also priced these to match the standard current price from Dapol.
A simple phone call or email can secure yours. We are also offering our weathering service on these for an additional £25.00 per vehicle with the customer's choice of light, light / medium, medium or heavy weathering if required.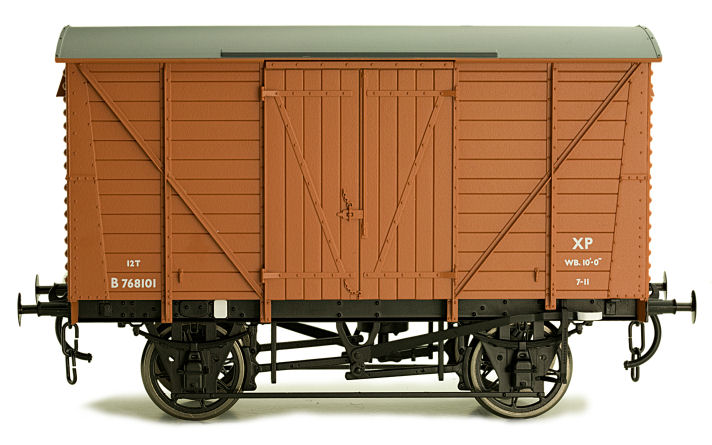 BR 12 Ton Diagram 1/208 Planked sided Vans
Over 17,000 of these vans were built in the 1950s to carry general merchandise traffic. The design has GWR features but without the characteristic roof profile and has the corrugated ends favoured by the LMS and LNER. Many were in service into the1980s.
| | | | |
| --- | --- | --- | --- |
| Ref. | Description | List Price | Our Price |
| TOWVAN1 | Set of 6 Diagram 1/208 planked vans - all different numbers | £299.70 | £255.00 |

BR 12 Ton Diagram 1/213 Plywood sided Van
These vans of which over 3,500 were built in the 1950s are similar to the above type but have plywood substituting for timber planks in the body and have an equivalent history lasting into the 1980's.
| | | | |
| --- | --- | --- | --- |
| Ref. | Description | List Price | Our Price |
| TOWVAN3 | Set of 6 Diagram 1/213 plywood vans - all different numbers | £299.70 | £255.00 |
Click Here to Return to the

index page