Locomotives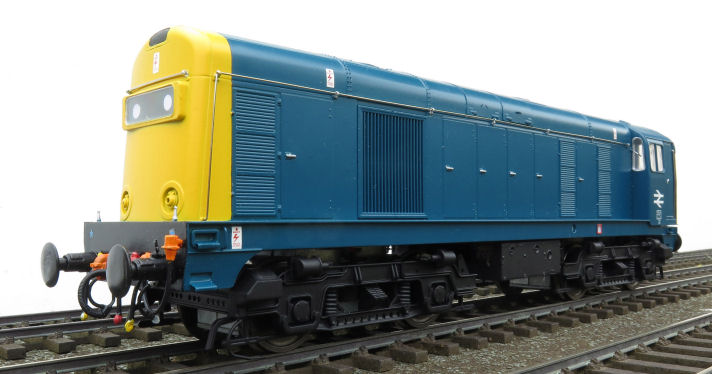 LOCOMOTIVE SPECIFICATION.
Heljan Class 20
Both the original Class 20 with disc headcodes and the later model with the centre headcode box have been popular and now Heljan have announcd a limited re-run of both body types for release in late 2023. For ease I have separated out the two body types into separate lists. We are taking advance orders for these now for despatch as soon as they become available. As and when we have images of the colour layout and decorated samples I will update this page of the website.
As always we are also offering our numbering and weathering service through the workshops should customer's wish to take advantage of this service. Numbering a loco is just £25.00, numbering and weathering an additional £75.00. This usually take 14-21 days to complete. The loco can also be sound equipped for an additonal £310.00 if required.
Features Include
• Highly detailed model in 1:43.5. (O Scale)
• Rotating roof fans.
• Highly detailed cab interior.
• Two powerful 5 pole motors.
• NEM pocket for couplings.
• Kinematics.
• LED
• Screwlink coupling
• Headcode indicators
• Directional changing lights.
• designed with sound installation in mind.
• Heavyweight model, weighing 3.0kg.

HELJAN CLASS 20 - with disc headcodes
| | | | |
| --- | --- | --- | --- |
| Ref. | Description | List Price | Usual Price |
| HJ2000 | BR green Class 20 SYP unnumbered | £ 639.00 | £543.15 |
| HJ2001 | | £ 639.00 | £543.15 |
| HJ2003 | Tinsley Railtour green unnumbered | £ 639.00 | £543.15 |
| HJ2004 | BR Blue #20042 DCE stripes, faded and weathered | £ 639.00 | £543.15 |
| HJ2005 | BR Green FYE #20023 weathered | £ 639.00 | £543.15 |
HELJAN CLASS 20 - with centre headcode box
| | | | |
| --- | --- | --- | --- |
| Ref. | Description | List Price | Usual Price |
| HJ2013 | | £ 639.00 | £543.15 |
| HJ2016 | BR FYE Thornaby Blue with red solebars and white cab roof | £ 639.00 | £543.15 |
| HJ2017 | | £ 639.00 | £543.15 |
Click Here to Return to the

index page