In response to customer demand, this latest variant of the Heljan O gauge Class 37/0 depicts the original 118 locomotives with split headcode panels and post-1970s cutaway bufferbeam cowlings. This updated model features a number of improvements over earlier releases, including sharper detail, a plug-and-play DCC interface, switchable interior and exterior lighting and a wider choice of detail options. Models will be available with several nose end arrangements, with or without steam heating boiler ports, high-intensity headlights and with either cast or fabricated bogies according to livery and period. I have now indicated on each livery whether it has the cast of fabricated bogies.
These are expected for release in 2023.
Tower Models are also producing a Limited Edition of this model with the production of an un-numbered version in Dutch Transrail to continue out Transrail theme from the Class 37/4. Gaugemaster have also announce a Scottish Blue Class 37 as 37043 featuring the Scottie Dog and white body stripe. We are taking advance orders for all versions of these now for despatch as soon as they become available.
As always we are also offering our numbering and weathering service through the workshops should customer's wish to take advantage of this service. Numbering a loco is just £25.00, numbering and weathering an additional £75.00. Numbering for the Large Logo version is an additional £10.00 on top of the standard numbering costs. This usually take 2-3 weeks to complete. We can also do named examples if required at an additional £25.00 subject to the number of plates required and this can take up to 6 weeks as the name plates are made specially to order. There is also the option of sound fitting as well through the workshops at an additional £310.00 using the ESU v5.0 XL chip.
As soon as we have further details and images I will upload them to the website.

At the same time Heljan are completing the tooling for the later-built centre headcode version which will be released in a wide range of versions and liveries covering the 1970s through to the present day. We have now had the first test sample images for these which are also shown here. The release date for the centre headcode version is likely to be 2024 at the eaarliest though as they do not want to compete with the split headcode version but it was logical to do the tooling for both versions at the same.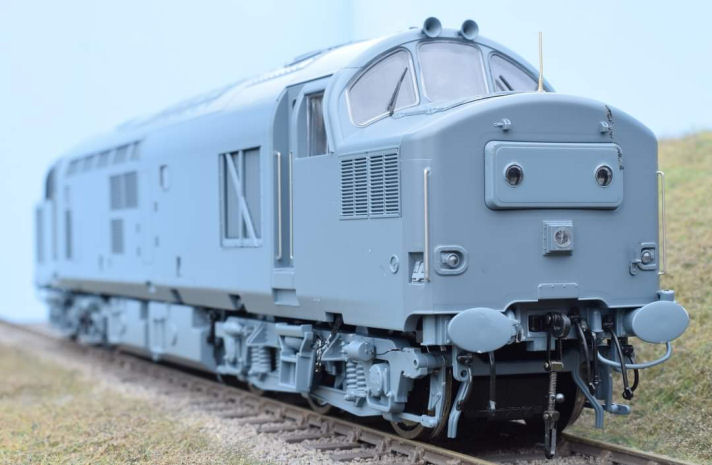 Features Include
• Highly detailed model in 1:43.5. (O Scale)
• Rotating roof fans.
• Highly detailed cab interior.
• DCC Plug and Play interface.
• Two powerful 5 pole motors.
• NEM pocket for couplings.
• Kinematics.
• LED
• Screwlink coupling
• Centre Headcode with lights
• Directional changing light.
• designed with sound installation in mind. (ESU v5 XL chip)
• Heavyweight model, weighing approximately 4 kg.