Locomotives
Heljan 'O' Gauge Class 40.
This classic design from the early days of BR diesels is now almost sold out, we now only have the blue livery available.
| | | | |
| --- | --- | --- | --- |
| Ref. | Description | List Price | Our Price |
| HJ4050 | BR Green Class 40 with small yellow warning panels. | SOLD OUT | SOLD OUT |
| HJ4051 | BR Blue Class 40 with yellow ends (twin double arrows) **LOW STOCKS** | £649.00 | £500.00 |
| HJ4052 | Tower Models Limited Edition all green Class 40 | SOLD OUT | SOLD OUT |
LOCOMOTIVE SPECIFICATION.
Heljan Class 40
Ready to run.
Features Include
• Highly detailed model in 1:43.5. (O Scale)
• Rotating roof fans.
• Highly detailed cab interior.
• Two powerful 5 pole motors.
• Kinematics.
• LED
• Screwlink coupling
• Headcode indicators
• Directional changing lights.
• designed with sound installation in mind.
• Heavyweight model, weighing 4.0kg.

All versions will be un-numbered allowing the customer to easily complete the locomotive with a number of his own choice. As always will will also offer our usual service of numbering the locomotives in our own workshop for an additional £25.00 or an additional £65.00 to number and weather in the case of unnamed Class 40's. For named Class 40's the cost is £50.00 to number, supply and fit name plates and £90.00 to number, name and weather to the customers requirements.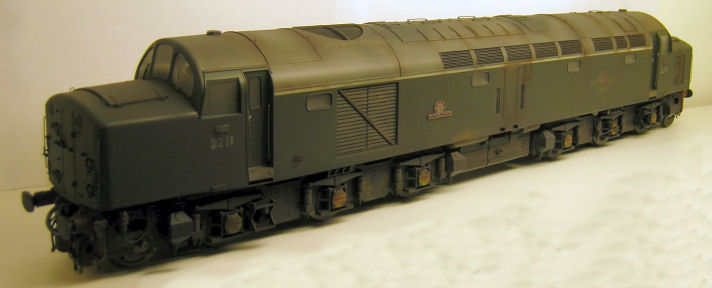 Class 40 names
I have created a list of all the Class 40's which were officially named in service. Those highlighted in red have all been preserved whereas the other were all scrapped in the early 80's. Please note there is also 2 that were named once in preservation
| | | | |
| --- | --- | --- | --- |
| Loco Number | Name | Shipping Line from which the name is derived. | Date named |
| D210 | "Empress of Britain" | Canadian Pacific Steamships | May 1960 |
| D211 | "Mauretania" | Cunard Line | Sept 1960 |
| D212 | "Aureol" | Elder Dempster Lines | Sept 1960 |
| D213 | "Andania" | Cunard Line | June 1962 |
| D214 | "Antonia" | Cunard Line | May 1961 |
| D215 | "Aquitania" | Cunard Line | May 1962 |
| D216 | "Campania" | Cunard Line | May 1962 |
| D217 | "Carinthia" | Cunard Line | May 1962 |
| D218 | "Carmania" | Cunard Line | July 1961 |
| D219 | "Caronia" | Cunard Line | June 1962 |
| D220 | "Franconia" | Cunard Line | Feb 1963 |
| D221 | "Ivernia" | Cunard Line | March 1961 |
| D222 | "Laconia" | Cunard Line | Oct 1962 |
| D223 | "Lancastria" | Cunard Line | May 1961 |
| D224 | "Luconia" | Cunard Line | August 1962 |
| D225 | "Lusitania" | Cunard Line | March 1961 |
| D227 | "Parthia" | Cunard Line | June 1962 |
| D228 | "Samaria" | Cunard Line | Sept 1962 |
| D229 | "Saxonia" | Cunard Line | March 1963 |
| D230 | "Scythia" | Cunard Line | April 1961 |
| D231 | "Sylvania" | Cunard Line | May 1962 |
| D232 | "Empress of Canada" | Canadian Pacific Steamships | March 1961 |
| D233 | "Empress of England" | Canadian Pacific Steamships | Sept 1961 |
| D234 | "Accra" | Elder Dempster Lines | May 1962 |
| D235 | "Apapa" | Elder Dempster Lines | May 1962 |
| D306 | "Atlantic Conveyor" | Named in preservation | August 1984 |
| 40145 | "East Lancs Railway" | Named in preservation | 20th anniversory of ELR |
Click Here to Return to the

index page