Locomotives





Heljan 'O' Gauge Class 52 Western.
In response to popular demand Heljan are re-running the ver popular Class 52 "Western" which should become available in the first half of 2023 with a total of six options being produced, including the Desert Sand and Golden Ochre liveries but without the metal plates that we supplied on our previous Limited Editions.
Specifications for the standard versions will be as with the first production run of these that was available a few years ago, with two powered bogies, working fans and directional lights. I have left some images on this page of fully finished examples from previous production runs along with the new coulour layout images that Heljan have provided for the new production run
There is also the option of sound fitting as well through the workshops at an additional £310.00 using the ESU v5.0 XL chip.
LOCOMOTIVE SPECIFICATION.
Heljan Class 52 Western
Ready to run.
Features Include
• Highly detailed model in 1:43.5. (O Scale)
• Rotating roof fans.
• Highly detailed cab interior.
• Two powerful 5 pole motors.
• Kinematics.
• LED
• Screwlink coupling
• Headcode indicators
• Directional changing lights.
• designed with sound installation in mind.
• Heavyweight model, weighing 3.0kg.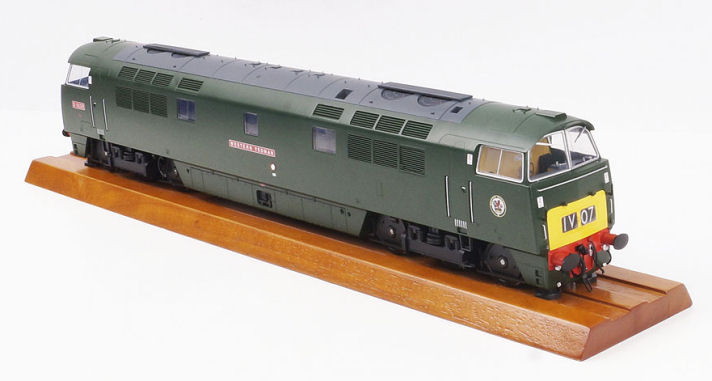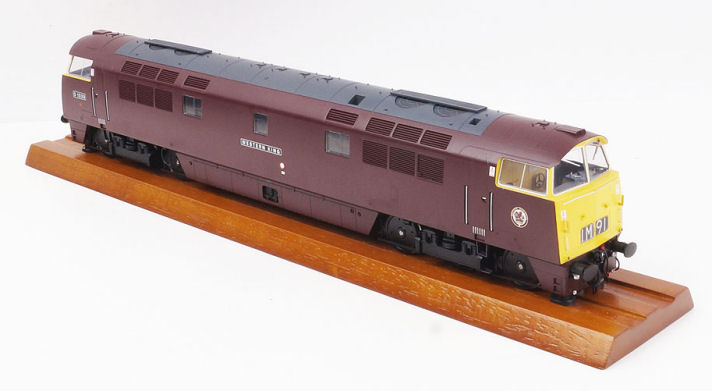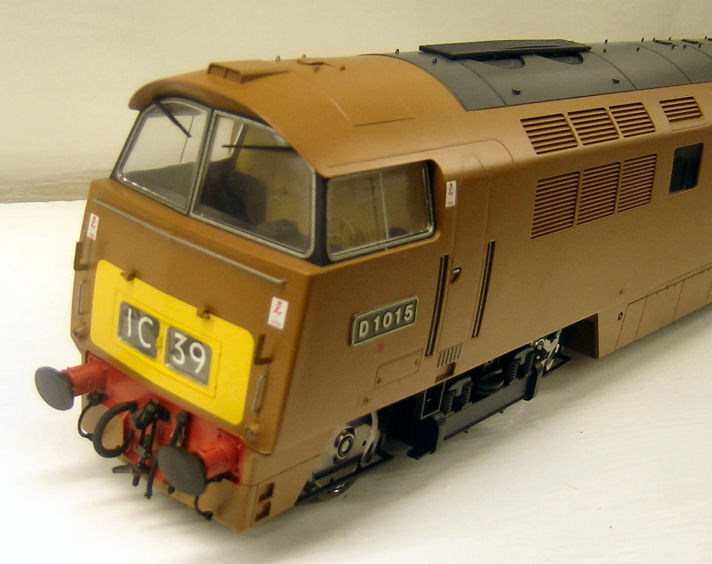 | | | | |
| --- | --- | --- | --- |
| Ref. | Description | List Price | Our Price |
| HJ5291 | Class 52 BR Blue with full yellow ends Unnumbered | £659.00 | £560.15 |
| HJ5292 | Class 52 BR Maroon with yellow bufferbeams D1001 Western Pathfinder | £659.00 | £560.15 |
| HJ5293 | Class 52 BR Green with small yellow panels D1038 Western Sovereign | £659.00 | £560.15 |
| HJ5294 | Class 52 BR Blue with full yellow ends D1031 Western Rifleman WEATHERED | £679.00 | £577.15 |
| HJ5295 | Class 52 BR Golden Ochre with small yellow panels D1015 Western Champion | £659.00 | £560.15 |
| HJ5296 | Class 52 BR Desert Sand with small yellow panels D1000Western Enterprise | £659.00 | £560.15 |
Click Here to Return to the

index page