Locomotives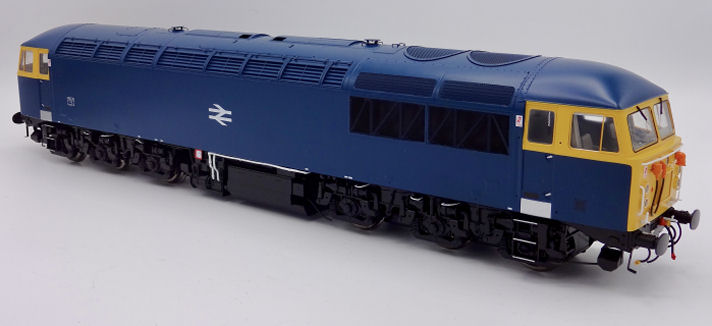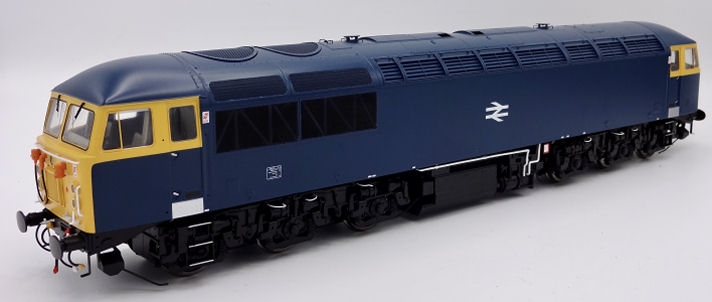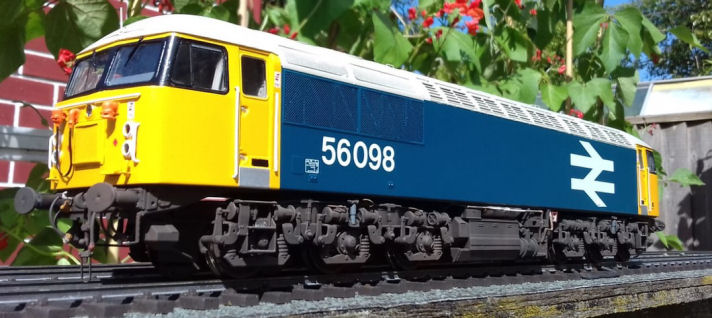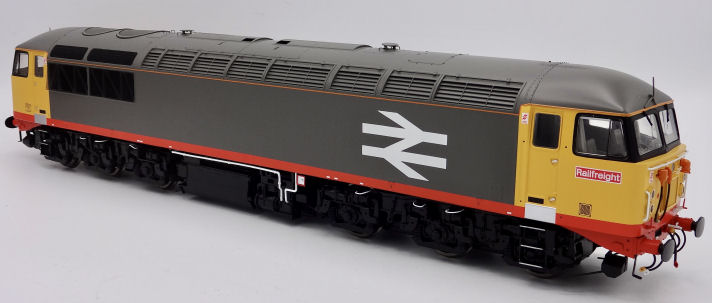 There is one slight error on all of the triple grey liveries with a light grey patch above the overhead warning flash next to the door, on the production models this area will be dark grey. The coal sector livery has not been shown as they have not yet had a weathered example of this, when we get images of this one we will update this webpage.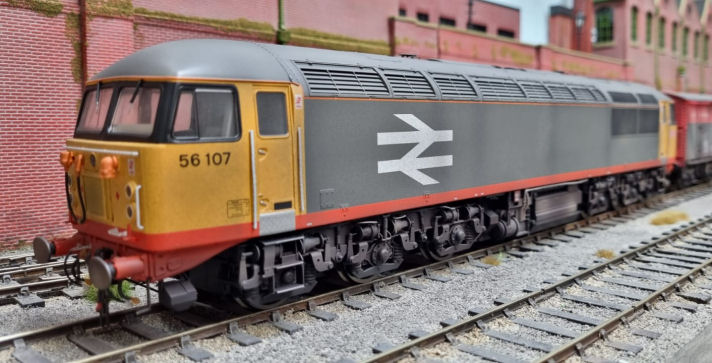 In response to strong demand from the O gauge community, we are developing a model of the popular BR Class 56 heavy freight diesel, introduced in 1976. The Heljan model will be based on the later Doncaster and Crewe-built locomotives (56070-135), allowing a wide range of the most requested liveries to be offered.
These are un-numbered allowing the customer to easily complete the locomotive with a number of his own choice. The cab door handrails are also separate as there are two patterns that were fitted and the custome rhas the option two fit either pattern
Provision has been made for a smoke unit inside the body, with the speaker space below inside the fuel tank/battery box area. As shown they will be coming with the aerials fitted.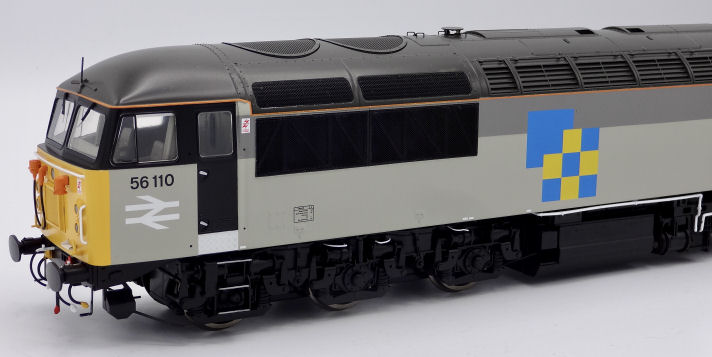 LOCOMOTIVE SPECIFICATION.
Heljan Class 56
Ready to run, the new Class 56.
Features Include
• Highly detailed model in 1:43.5. (O Scale)
• Two rotating roof fans and provision for smoke unit.
• Highly detailed cab interior complete with internal brace detail.
• Two powerful 5 pole motors with flywheels.
• Optional customer fit cabside air-conditioning grille and 'grid' below bufferbeam.
• Finely detailed bogies with authentic main frame shape
• Two cab door handrail options.
• Etched diamond pattern see-through grilles.
• LED head, tail and cab lights.
• Screwlink coupling.
• Optional NRN aerial on cab roof.
• DCC friendly PCB with screw terminals.
• Heavyweight model, weighing approximately 3.5 kg.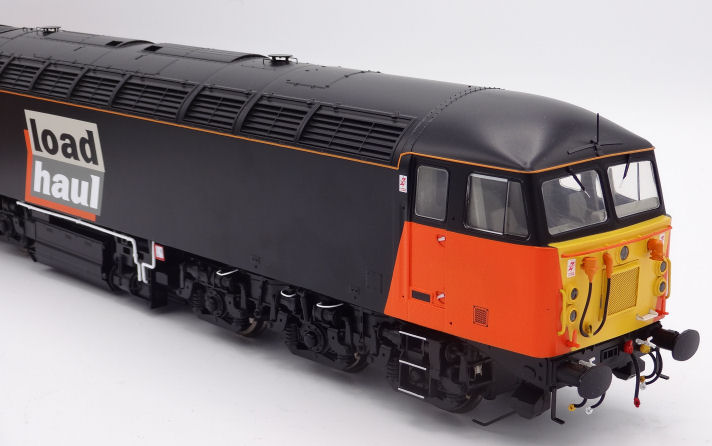 HELJAN CLASS 56

| | | | |
| --- | --- | --- | --- |
| Ref. | Description | List Price | Our Price |
| HJ5600 | BR Blue with full yellow ends **LAST FEW** | £729.00 | |
| HJ5601 | BR Blue Large Logo with full yellow ends **LAST FEW** | £729.00 | |
| HJ5602 | Railfreight Large Logo Grey | £729.00 | |
| HJ5603 | Railfreight 'Red Stripe' grey | £729.00 | |
| HJ5604 | Railfreight Triple Grey Sector Livery (unbranded) | £729.00 | |
| HJ5605 | Railfreight Coal Sector grey 56101 "Mutual Improvement" factory weathered **LAST FEW** | £749.00 | |
| HJ5606 | Railfreight Construction Sector Grey 56110 "Croft" **LAST FEW** | £729.00 | |
| HJ5607 | Loadhaul Black / Orange | £729.00 | |
| HJ5608 | BR large logo blue 56099 'Tinsley embellishments' **SOLD OUT** | SOLD | |
| HJ5609 | BR Blue with full yellow ends numbered 56071 **LAST TWO** | £729.00 | |
| HJ5610 | Tower Models Limited Edition Transrail Livery - un-numbered **LIMITED EDITION OF 75** | £729.00 | |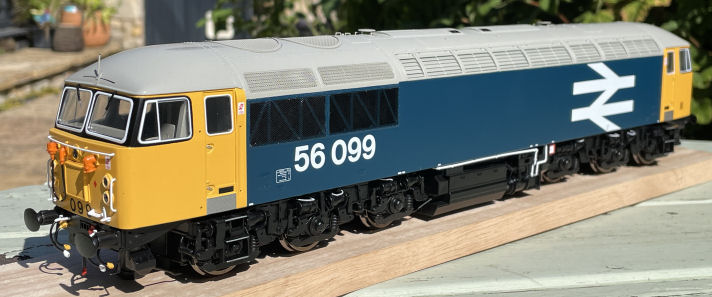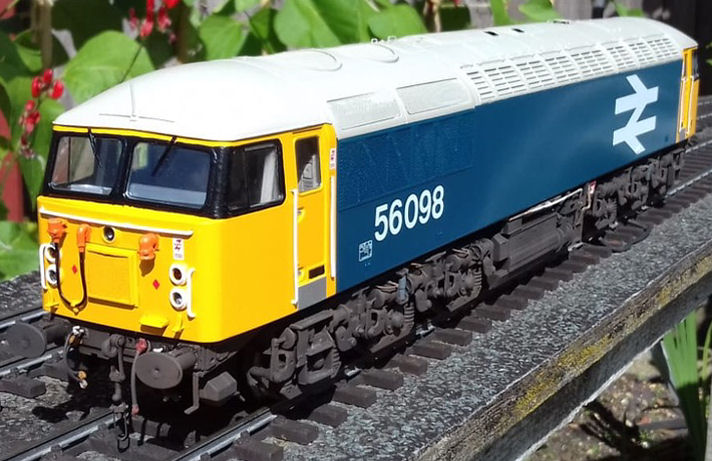 As always we will also offer our usual service of numbering the locomotives in our own workshop for an additional £25.00 or an additional £75.00 to number and weather. In regard to the Large Logo variants there is an additional £10.00 charge for numbering due to the size and cost of these transfers. We can also name locos as well at an additional £25.00 charge.
Click Here to Return to the

index page