Another one this week in our special graffiti series that we have been working on since October last year when we did the Royal Mail graffiti special and once again this week is image intensive as we show off the work.
This time we have really pushed the limited of the little layout with a full rake of six wagons, so long that we could not show it as a single rake of wagons and instead are having to show one train passing another.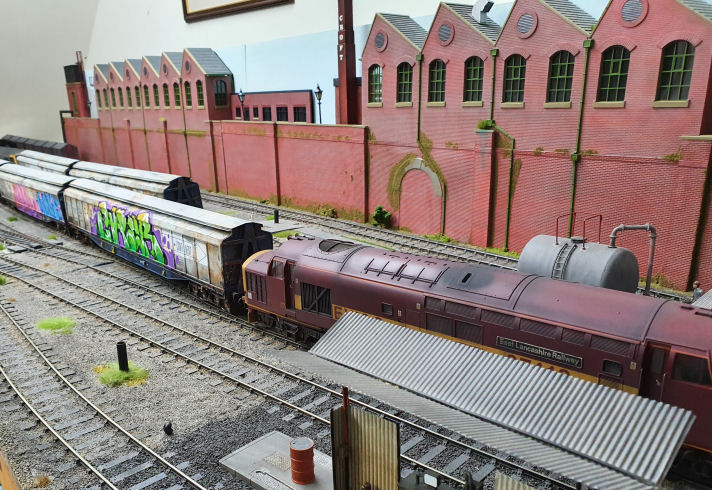 The IWB cargowaggons were produced to transport palletised cargo between Britain and Europe and since the channel tunnel opened in 1994 have become synonymous with freight traffic across the continent.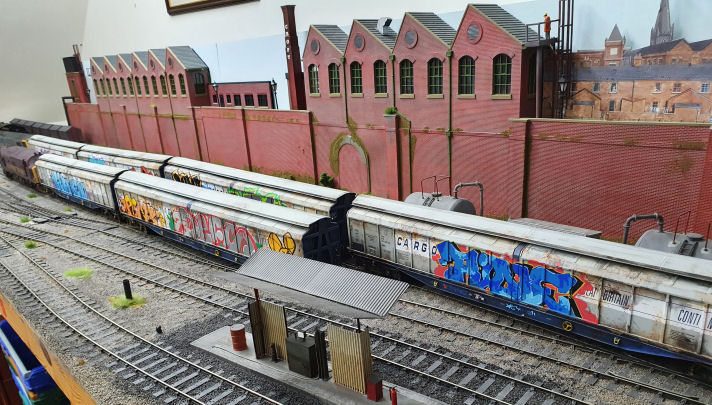 In the previous graffiti special we have recreated actual graffiti fromn around London but with the international flavour of the Cargowaggons we have here instead copied prices of graffiti from across Europe with pieces from Spain, Italy, France and Germany.
Street Art or mindless vandalism, graffiti is a fact of life when it comes to the railways and can be seen on many a station approach on retaining wall or redundant stock left in sidings and is by no mean a new phenomenon having plagued the railways for many a year. Graffiti has always been something that has divided the model railway fraternity. I, myself, have always admired the skill of the artist but there is nothing worse than a poorly executed piece.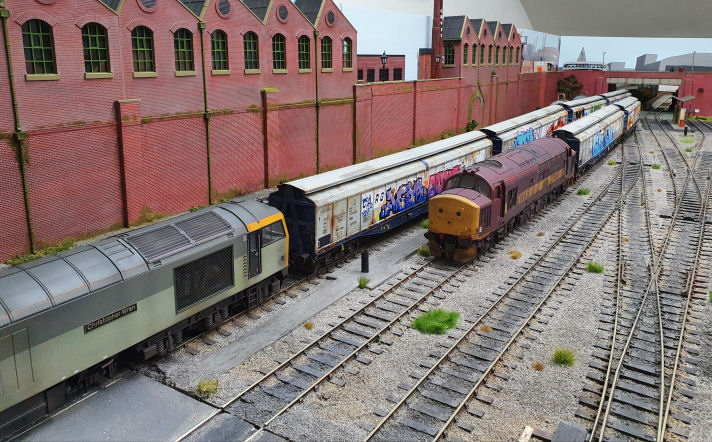 Heljan produced both the IWB cargowaggon and cargowaggon flat but sadly these are now sold out at Heljan. we do hope that they will one day re-run these but that is purely down to the demand and in these strange times it is unlikely they will be re-run anytime soon. The locos featured here are also Heljan with both a Class 37/4 in EWS that we have fully finished through the workshop and are currently available from us and also one of the Heljan Class 60. The Class 60's are not currently available but Heljan have announced a re-run of these for later in the year and we are taking advance orders for these now including our own Limited Edition Coal Sector liveried example. There is also a new production run of the Class 37/4 with new liveries is expected in th next month that also includes our Limited Edition Transrail liveried example.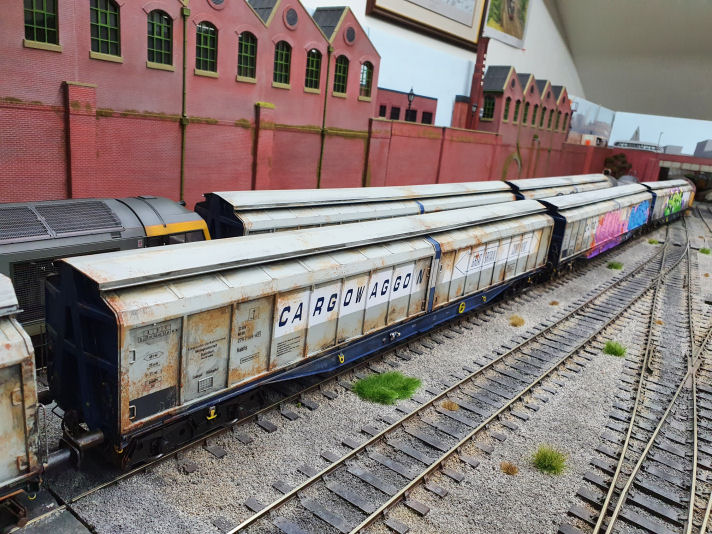 The cargowaggons were first introduced in 1977 and have also been weathered showing a little distress with their age. We have turned the wagons round half way through the photography to show the opposite sides of each vehicle with a couple of them only having graffiti on one side for a bit of variety. Every one of them is unique and all of them have been hand painted onto the vehicles.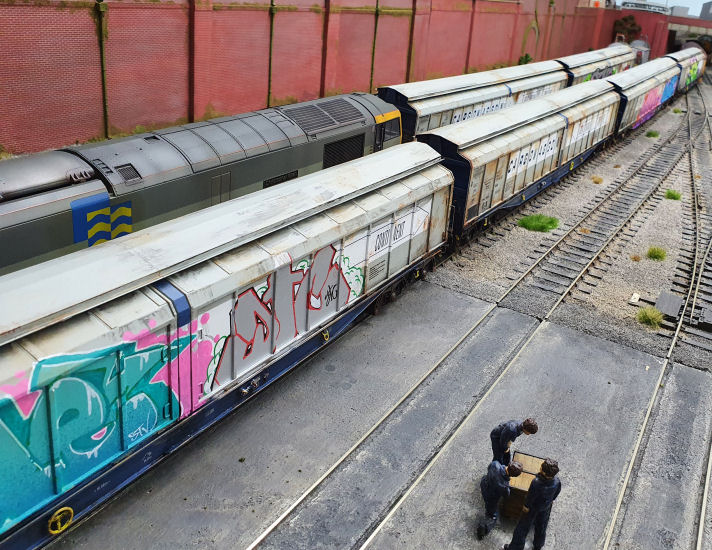 The fact they they are all different also makes you think there are more of them than there actually is and would be nice to see them going round a large layout.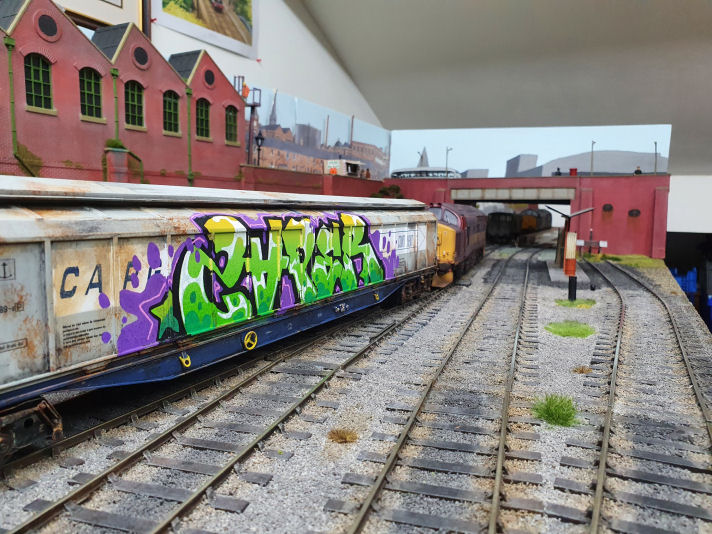 As it happens this set of six has a new home now and will be seen at Preston club so once restrictions are over I will be going do to the club one day to see our handywork in motion.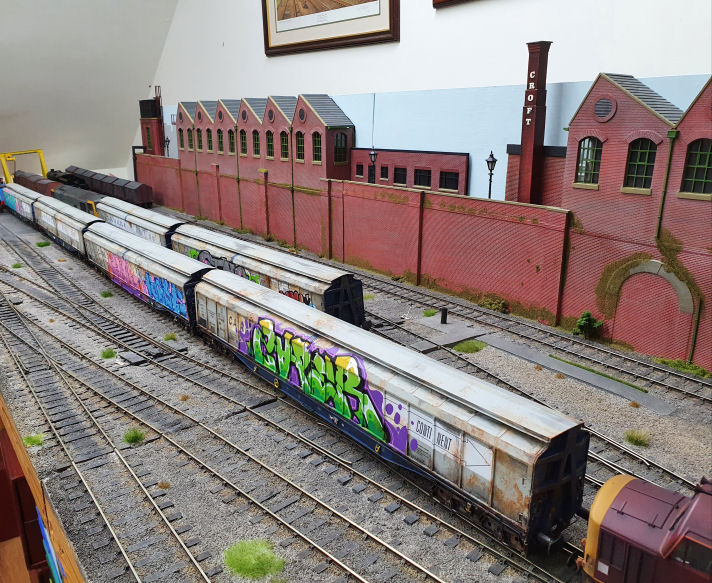 Network Rail estimates more than 5 million pounds per year is wasted on cleaning up graffiti and feel we should also put this link British Transport Police and Graffiti and we do not encourage anyone to risk their lives around the railways or break the law to create graffiti.
I was chuffed with how these have turned out so I have taken the very last one of the cargowaggons we had in stock to do another one, ironically it is one of what Heljan called their "graffiti" example, well this last one is going to very much more graffiti when we have finished with it and will be for sale in approximnately 3 weeks time. I really must try and find a figure to go on the layout of a cleaner with bucket and sponge, preferably crying!
Here is a link to the Class 37/4 Heljan Class 37/4
Here is a link to the forthcoming Class 60 models Heljan Class 60 re-run
We are taking advance orders for these now for despatch as soon as they become available.