Train of the week is a new feature that were are starting in August and hope to feature every week subject to how manic it gets with new product launches. Of course it is subject to how succesful the concept is and on going sales from it but it is not just about that it is also about showing ideas and putting together locos, coaches and wagons from various manufacturers together into a realistic train. Most featured items are standard stock items and we can always recreate it again to customer's own specifications with either more or less items of rolling stock or even different liveries as required
As such even when completed and sold we will leave them on the list as inspiration for short, simple trains that you may want to tackle yourself or leave us to do for you subject to items still being available and a new "Train of the Week" should be added every Thursday and we intend changing the era and type of train to keep it fresh and different.
Rather than constantly increasing the size of this, we have now archived the Train of the Week features from 2018 which can be found through this link 2018 Train of the Week feature
RazorEdge Railcars
Back to the concept of short, realistic trains again this week and one I have been wanting to do for a while and with a delivery from the workshops of new stock items made it possible We are showing here a clean example of the GWR liveried models and then a lightly weathered example of the BR Crimson and Cream livery. The Razor Edge Railcar is a complete train in just a single unit and equally at home on a small end-to-end layout or a larger layout.
In February 1939 the G.W.R. announced 20 new railcars The fleet would consist of 15 single passenger. cars, one express parcels car and two twin car sets. Previous Railcars had been of a streamlined shape and the new type cars would be much more angular which quickly lead to them being nicknamed Razor Edge Railcars.
The chassis were built by A.E.C. and powered by two A.E.C. 6 cylinder engines.   As built there was a drive shaft connecting the axle boxes on the powered side of the bogie at opposite sides on each end.   These shafts were removed in B.R. days.   The bodies were built at Swindon and the chassis's were delivered there for final assembly. Maximum speed was 64 m.p.h. and the Railcars were used over a large part of the G.W.R. system, particularly in the Midlands, Oxfordshire, Bristol and Wales areas.
As built the Passenger Railcars were painted G.W.R. chocolate and cream. Lining was applied around the chocolate panels and the Railcars carried the G.W.R. roundel or "shirtbutton". The roof was originally painted white.
In B.R. days the Passenger Railcars were repainted standard B.R. coach livery of carmine and cream with simple waistband lining. They were originally renumbered W19 to W33 but this quickly became W19W to W33W. This numbering system was retained until they were withdrawn. The final livery carried by the Passenger Cars was the familiar B.R. green with "Cat's Whiskers" from 1958 onwards. During the B.R. period the roof colour was anything from light grey to dark grey.
The Razor Edge Railcar stands at just over 46cm in length but as with many of the similar units around at the time could also be seen with either a BG, GUV or milk tanker behind it.
This model is from the Tower Brass range and is either available in plain brass or fully finished as per the examples shown here. Details of the Tower Brass Razor Edge Railcars can be found through this link.
It is also worth mentioning that Heljan also intend producing a model of this loco in late 2019 or 2020 which we are taking advance order for now. Details of the Heljan AEC Railcar can be found through this link.
| | | |
| --- | --- | --- |
| RazorEdge Railcar | Tower Brass Razor Edge Railcar in a choice of liveries, clean finish | £835.00 |
| RazorEdge Railcar | Tower Brass Razor Edge Railcar in a choice of liveries, weathered | £875.00 |
Torrington Milk Train
We had to think long and hard about doing this one. The workshop is very busy at present completing Heljan Class 43xx Moguls for customers and had little spare time. Last week we featured a CWS Milk train which a customer was inspired by but wanted the theme of the Dapol United Creameries silver tankers.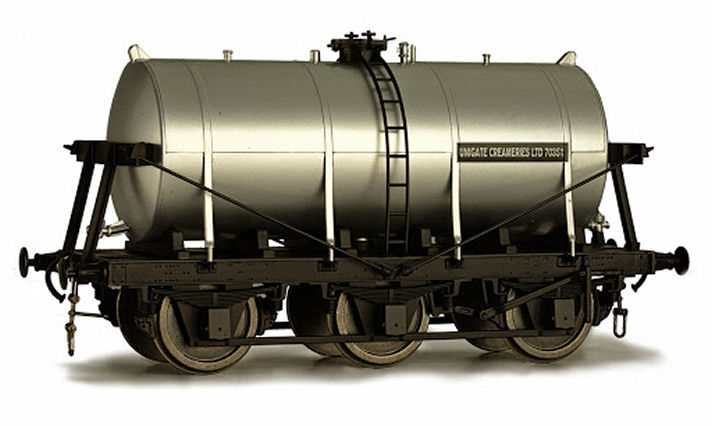 We were a little hesitant at first as we were not sure how these would look with the weathering so decided to have a look into images of the real thing....
Torrington had both a SR and WR route for milk traffic, both travelling via Exeter and the above image nicely shows just how dirty the milk trains can get.
With the image as inspiration we have gone for one light, one medium and four heavily weathered examples Obviously each are slightly different levels as they would not all be exactly the same degree of weathering. The individual cost for these if we were to do them is £95.00 each (£70.00 plus £25.00 for the weathering.) and the train could be as long and short as required and could easily include the likes of a BG or GUV for carrying milk churns
There is also a very interesting article on Torrington milk traffic which can be found here Torrington Milk Traffic. One line I found particulary interesting in there is up to six milk tankers being added to a passenger train for mixed freight and passenger service and may be why the customer ordered a total of six with the sheer volume of traffic through the day and also the mention of latter deisel era with milk tankers mixed in with clay trains.
As for the loco, we have shown one of the new Heljan 43xx Mogul, as if on the WR route out of Exeter and then a BR Terrier for Southern shunting operations (I know someone may scream they didn't do this but it is Southern and a little tank engine and available Ready-to-Run.)
| | | |
| --- | --- | --- |
| Milk Tankers. | Dapol six wheel milk tankers in a choice of liveries, clean finish | £70.00 EACH |
| Milk Tankers. | Dapol six wheel milk tankers in a choice of liveries, weathered | £95.00 EACH |
Milk Train
Following on from last week is another tanker train but this time for milk traffic in the steam or early deisel era. This has also been an interesting train to research. Would of made me cringe to say "Milk for London" because really it could of been any major city.
We have put together a rake of the Dapol CWS 6 wheel milk tankers along with on of the San Cheng Manor class 4-6-0's in BR early crest lined green livery. CWS had private siding serving a dairy in Melksham (WR) and a loading facility in both Llangadock (WR) and Wallingford (WR). These served discharge point at Stewarts Lane and East Croydon, both on the SR so this could represent the shunting and creation of the train or a short train in transit. By the 60's CWS was under the United Dairies Label.
As to weathering, I always assumed the milk traffic fleet were kept relatively clean but looking at images they could almost be black with grime. We have gone relatively light weathering which has just highlighted the strapping detail which otherwise is lost and a very light sheen around the centre of the tanks for overspill. Obviously each are slightly different levels as they would not all be exactly the same degree of weathering. The individual cost for these if we were to do them is £95.00 each (£70.00 plus £25.00 for the weathering.) and the train could be as long and short as required.
To finish off the train we have a weathered example of the Dapol BR grey 20 ton brake vans. Last year we featured a short rake of just six milk tankers along with a BR black 64xx Pannier Tank rather than a mainline milk train destined for the busy cities and did not feature one of the brake vans as it was only assembling the milk train ready for a heavier loco.
The overall length of this train as it stands is just under seven foot but as previously mentioned this could be as long or short as you have space for and this could also be reproduced based around any of the standard liveries of the milk tankers produced by Dapol as either clean or weathered finish. It would be acceptable to see the odd clean United Milk tanker mixed in with a rake of CWS milk tankers once the company was taken over for example.
| | | |
| --- | --- | --- |
| Manor | San Cheng "Granville Manor" in BR early crest lined green livery, lightly weathered | SOLD |
| Milk Tankers. | Dapol six wheel milk tankers in a choice of liveries, weathered | £95.00 EACH |
Esso Tanker Train
Another interesting and popular theme is petroleum traffic from all over the UK in both the steam and diesel periods and we have just completed a set of the Esso petroleum tankers.
Loco featured here is one of the Heljan Class 45's as D59 "The Royal Warwickshire Fusiler" along with ten of the Heljan Esso tankers. This was always the most popular of the liveries of the Heljan Class B tankers and has now completely sold out so we decided to use the very last set of these to complete this impressive looking tanker train.
Then we have weathered them and used artistic license to show a degree of the oil staining. In reality many of these tankers were so heavily stain with oil spills that you cannot even see the lettering but this is really effective at showing the overall character of the train without over doing it.
The whole train is just over 7'3" in length overall with the set of ten tankers. There are still other liveries of the tankers available; Regent and Mobil the other options available that can always be completed to order as the Esso set has now been sold. As we always say, this is only shown to spark ideas and show case what can be done, if you have space for more or less tankers it still give a good impression of the overall appearance.
We will be revisiting fuel tankers but in the steam era before Easter with the release of our two Limited Edition sets of the Dapol Air Ministry Class B tankers in both Esso and Shell BP liveries. Details of theTower Air Ministry Class B tanker sets can be found through this link and we will be offering a weathering service on these along the lines of the above tankers including the oil staining for an additional £150.00 for the set of six.
| | | |
| --- | --- | --- |
| Petroleum Train. | Heljan Class 45 with 10 Heljan Class B tankers in either Esso livery all weathered | SOLD |
| Class 45. | Heljan Class 45 named and weathered | £640.00 |
| Tankers. | Set of 10 Heljan Class B tankers in Esso livery all weathered | SOLD |
Mk1 Passenger Train
Following on from the limited re-run of Heljan Mk1's received last week we thought it was worth looking at these whilst they are still available. The popular Heljan Mk1 were produced about 5 years ago and .have been sold out for at least 12 months. Following several requests they have done a small and limited re-run of just eight vehicles with the best selection being the BR maroon livery with four versions available enabling a full train. There is also a new lower price on these coaches compared to the original issue price from five years ago.
We are showing here the Mk 1 coaches with one of the Heljan Class 42 Warship diesels, going for a factory numbered and named green example "Kelly". We went for this Warship as a maroon example just looked all too "red" for the whole train. There are currently ten versions of the Warship available including five of the Tower Models Limited Editions which are un-named and numbered so customer's can choose their own choice of iconic name.
Originally we were going to show the locomotive with five coaches but this was just too long for the small shunting layout we use for photography with examples of the SO Second Open, FK Corridor First, RMB Restaurant Mini Buffet and finally the BSK Brake Second Corridor and showing them clean rather than weathered. The coaches also come un-numbered so customers can decide on their own region for the train. We do offer a number and weathering service for these though at £25.00 for numbering and £40.00 for weather per vehicle
The overall length of this train as it stands is just over 90 inches with the four coaches as the individual coaches are just over 47cm each. If you were going to go for less than four coaches I would recommend the Dapol suburban coaches over the Mk1 coaches which, although used on suburban services, would usually not be used on such small trains.
Talking to Heljan it does look like longterm Heljan will reintroduce more of the original range but this is subject to how well this limited re-run goes with the full range of Blue Greys next on the list to supplement the TSO that has just been re-released in blue grey. There should also be more news on these around Telford show along with some new liveries if everything goes to plan.
Details of the Heljan Mk 1 coaches can be found through this link
Details of the Heljan Class 42 Warships can be found though this link
| | | |
| --- | --- | --- |
| Heljan Mk1 coaches | Choice of liveries and types | £169.15 |
| Heljan Warship | Heljan Class 42 Warship in a choice of liveries | £550.00 |
Railfreight Train
This week we have gone for a short train based around the distinctive Railfreight grey era of 1982 through to 1987 and features one of the Heljan Class 20s and a mix of Heljan OAA's and VDA's in matching Railfreight Red-Grey livery.
This era is gaining in popularity and this is the third attempt we have made to get this onto train of the week with each time previously the train selling before we could feature it. Each time before it was four of the opens and only one van being effectively used as a brake van at the opposite end to the loco. This time we have completed it with 2 of the Heljan vans.
As a side point, we have just tried to re-order some of these VDA vans from Heljan and they have now sold out so we are limited to whatever stock remains here on the vans. Stocks on both versions of the OAA are still okay.
The loco and stock have all been numbered and weathered. Although weathering is not to everyone's taste it, even with a very light dusting, does take the "plasticy" sheen from both the loco and stock.
Keen eyed will also note the loads in the OAA's wagons and we have a few enquires on these and the simple answer is they are plastic credit card till roll tubes that have been glued together and spray to represent pipework
The overall length of this train as it stands is around 74 inches but obviously could be done as a shorter or longer train if required but looks effective and realistic even at just over 6 foot long.
We have also been asked about completing just singles of the shown rolling stock which it is always no problem to do if required so I have listed a price for these too. This obviously also applies to any of the wagons shown in previous weeks that we have featured.
| | | |
| --- | --- | --- |
| Rake of OAA /VDA | Mix of two VDA's and four OAA's all weathered with different numbers. | £540.00 |
| Single | Single OOA or VDA weathered | £90.00 |
| Railfreight Train | Heljan Class 20 Railfreight numbered and weathered with a mix of 6 VDA's and OAA's with different numbers and weathered. | £1075.00 |