Welcome to Tower-Models.com
This site is being constantly updated and any new items and details being added on almost a weekly basis. If you have any questions then please feel free to e-mail us for further details. The website is designed to work with Microsoft Internet Explorer but may work with other web browsers. Also some firewalls have strange effects, so be aware. It may be "belt-and-braces" technology but it works. The site is also just an online catalogue, it is not an online shop. To order just use the good old-fashioned phone!
NAVIGATION
Use the navigation side bar on the left hand side to look up the various scales and the ranges in those scales we stock.
NEWS 16th August 2018
Train of the week is a new feature that started in August and we hope to feature every week subject to how manic it gets with new product launches. Of course it is subject to how succesful the concept is and on going sales from it but it is not just about that it is also about showing ideas and putting together locos, coaches and wagons from various manufacturers together into a realistic train. Most featured items are standard stock items and we can always recreate it again to customer's own specifications with either more or less items of rolling stock or even different liveries as required. Full details can be found by clicking on the title which is the link to the specific webpage for this feature.
As such even when completed and sold we will leave them on the webpage as inspiration for short, simple trains that you may want to tackle yourself or leave us to do for you subject to items still being available and a new "Train of the Week" should be added every Thursday and we intend changing the era and type of train to keep it fresh and different.
The last few weeks we have had a run on Helmsman controllers for O gauge and now we have the answer why when we called to re-order some more. Helmsman has had a price increase that came into effect the 1st August. I have now updated the website with the new prices that have come into effect. The 5 amp controller is perfect for the likes of Heljan where you need a high ampage for the three motor and lights.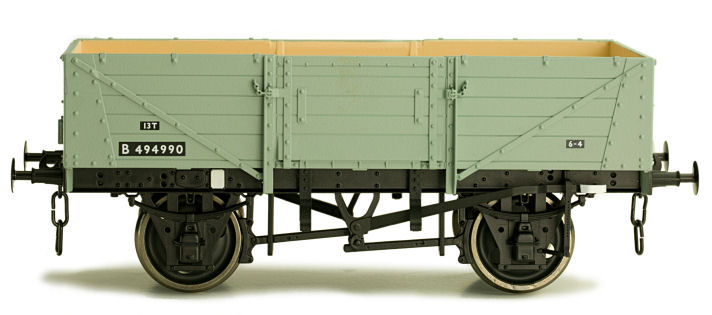 Dapol BR 10ft wheelbase wagons
Today Dapol have confirmed that the re-run of the superb 10ft vans and opens should hopefully dock around the 13th of September and will including the Ale van for the first time and a re-run of the white insulated van. Allowing for clearing customs and delivery to Dapol this menas we should hopefully receive them around the 10th of September. Details of the liveries available in this batch can be found on the relevant webpage. We are taking advance orders for these now for despatch as soon as they become available.
NEWS 11th August 2018
Guildex Telford show 1st & 2nd September
Three weeks today will be the Gauge O Guild show at the Telford International Centre. This is the show of the year for O gauge in the UK and as always hard work. We will be taking as much stock as we can to the show but as always space is at a premium in the van and we cannot take large quantities of any items with such a wide range now available and increasingly so with the likes of block running wagons. We therefore recommend advance ordering any specific items you would like to collect from us at the show and the more notice we have the better so we can ensure we have them ready for you to collect on the day. As simple call or email could avoid any potential disappointment.
As a result of attending the show we will be closing the shop just after lunch on the Friday to drive down to set up and the shop will also be closed on Saturday 1st September.
NEWS 8th August 2018
HMRS Transfers
Good news from the HMRS yesterday in regard to the O gauge transfers. Sheet 22, BR mixed traffic lining, is finally back after being out of print for the least 4 months. We are expecting these hopefully around Saturday and will be despatching all advance orders left with us on the same day. If you have been waiting for one of these but not left a back order with us, just call and we can get it off to you ASAP. At the same time we are having a complete restock on all the available sheets currently in print.
NEWS 4th August 2018
Latest news today from heljan is that the Class 52's Westerns are now at sea and should be available early in September. There will be six named and numbered models available We are taking advance orders for these now for despatch as soon as they become available. We can also rename them and offer our own weathering service if people require it. Demand is expected to be high and taking advantage of our advance order system is highly recommended.
NEWS 22nd August 2017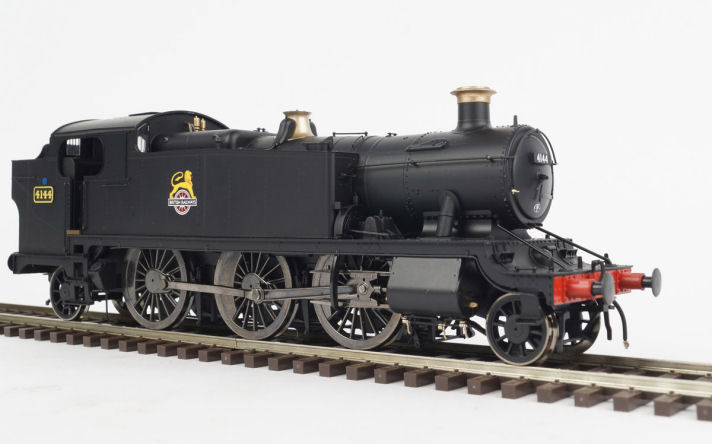 Heljan 61xx Large Prairie Latest
At the same time Heljan have confirmed that the long awaited 61xx should become available in September. We are still taking advance orders for these now and the numbers on the Limited Editions are getting low.
NEWS 4th August 2018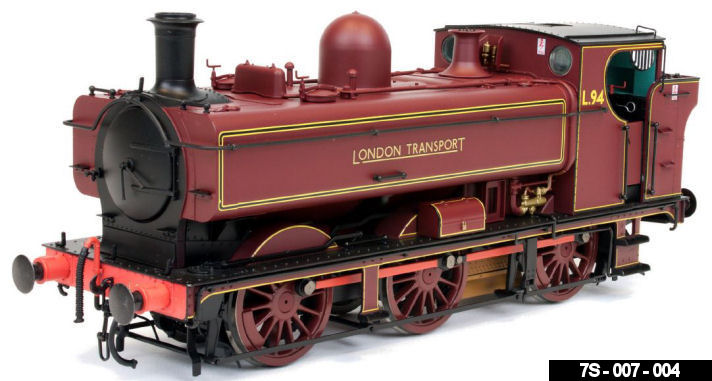 We have now received the London Transport 57xx locos without sound. We have now also received the sound equipped version of L92 and Dapol tell us the sound equipped version of L94 should be available around the end of the month. Most advance orders have already been despatched and we still have some available off the shelf for immedite despatch..
It is also worth reminding people of the slight increase in the price of the London Transport liveried 57xx's both with and without sound. This is because of an increase in the license fees from Transport for London for use of the imagery and livery. Dapol have absorbed as much of the fee as possible but had to pass on a £7.50 increase to the RRP onto the customers. When the prices and margins are already so low increases like these have to be passed on. (Basic model RRP from £235.00 to £242.50, Our Price from £199.75 to £206.25; DCC & Sound RRP from £420.50 to £428.20, Our Price from £357.50 to £364.00)
Stocks of the standard Dapol 57xx and 8750's are begining to run low with the Great Western version of the 57xx already sold out. I have updated today the website with the remaining stocks.
NEWS 31st July 2018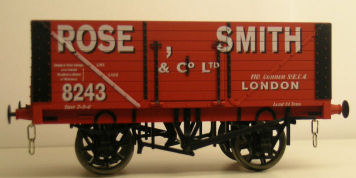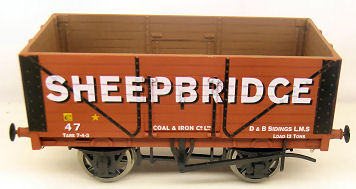 Later on today we should receive a delivery from Dapol that will bring us back up to stock with all available liveries of the 5, 7 and 8 plank RCH wagons. These are always popular and worth checking out if they fit in with the period you are modelling.
NEWS 30th July 2018
Weathered Dapol Class 08's
The workshop have just completed some of the standard Dapol Class 08's with medium weathering for sale off the shelf. The weathering really has worked well and brought them alive. The cost of these is just £216.25 each Post Free to mainland UK addresses. We can also complete a sound equipped version if required, the cost for one of these weathered would be £370.00 for the sound equipped version.
NEWS 27th July 2018
Dapol August release schedule
The latest release schedule from Dapol yesterday has the following 'O' gauge items listed as becoming available soon:
Dapol 9ft wheelbase Salt and Lime Vans
The new salt and lime vans should become available in August and should be the first O gauge vehicles to be produced at their factory in the UK. We are taking advance orders for these now for despatch as soon as they become available.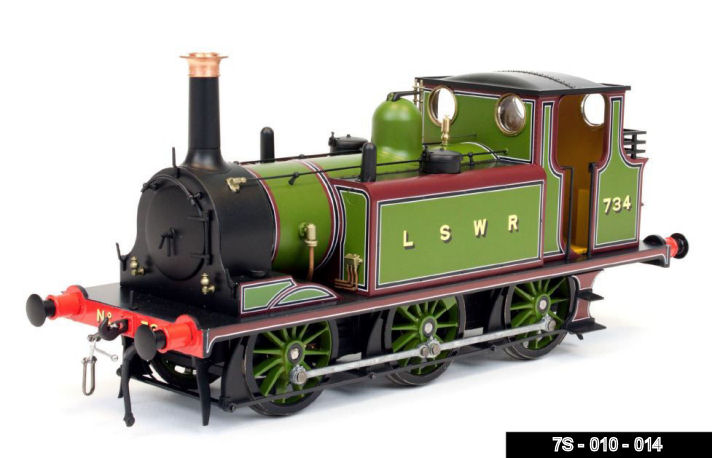 There are a total of 5 new liveries covering both A1X and A1 versions with the option on all of analog, DCC fitted or DCC and sound fitted, of which we have now received test sample images of 4 of the new Liveries. Expected release date for this is now August 2018. We are taking advance orders for these now for immediate despatch as soon as they do become available.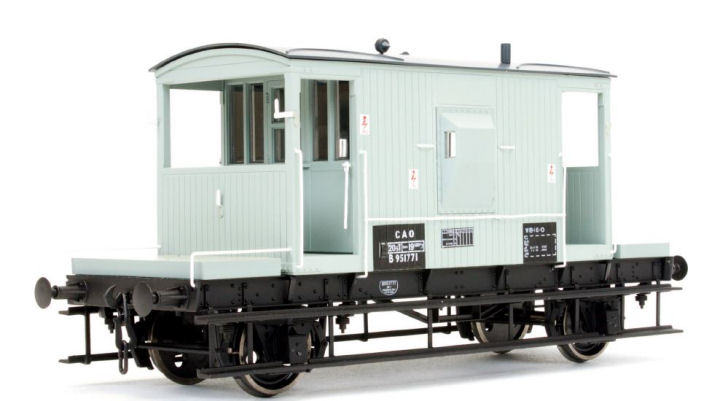 Dapol 'O' gauge BR Standard 20ton Brake Vans
Next into production on the wagon side from Dapol is the British Railways standard 20 ton goods brake van. Initially be producing is the main series of brake vans encompassing Diagrams 1/504 (vacuum through piped) and 1/506 (Unfitted) manufactured between 1951 and 1957 totalling some 2,300 vehicles. We are taking advance orders for these now for despatch as and when they become available . Demand for these has been very high and we expect them to sell out quickly once they are released.
A good suggestion to accompany these is the set of 5 Springside BR tail lamps or BR Guards lamps at £9.50 per set which we could add to the order if required.
Dapol have told us they are currently in production in China so hopefully this means they should be with us around the end of August or September
We are taking advance orders for these now and demand is expected to be high for these iconic block running vehicles. As it is effectively just additional number options we will just give a mix of the alternative numbers to customers with outstanding advance orders keeping to the requested colours.. If customers would like to amend their orders please call and we can update them.
Looks like August could be a very busy month!
NEWS 6th July 2018
Tower Models Limited Edition Class B Tankers
Both Shell BP and Esso have always been the most popular of the liveries of the Class B ex-Air Ministry tankers. As such we thought people might appreciate the chance to buy sets of 6 of these all with different running numbers that have not been done before by Dapol. We have therefore commisioned a set of six each which should hopefully be available around Christmas 2018. Production of these though is subject to the advance orders received. If it turns out to be a bad idea then we will simply cancel the project.
Tower Models Limited Edition Dapol Vans
On the same basis we have also commisioned a set each of both the standard 10ft wheelbase planked vans and plywood vans in the early 1950's livery. These should be available around Easter 2019. Again this is subject to receiving sufficient advance orders but with these if there is enough interest there is even the chance that we may extend this to two different sets of six of both types.
We are taking advance orders for these now for despatch as soon as they become available, a simple call or email can secure your order.
NEWS 28th June 2018
Dapol have today confirmed the new version of the Class 08 to cover the later variants and liveries. We are taking advance orders for these now for despatch as soon as they become available. The predicted release date for these is hopefully before Christmas.
Dapol 'O' gauge Y1 / Y3 Sentinel
Again it was nice to see the first test sample of the forthcoming Y1 / Y3 Sentinel which is planned for release late 2018. We are now taking advance orders for these for immediate despatch as soon as they become available. Advance ordering is highly recommended as this is bound to be popular.

We have finally had the opportunity to complete thirteen Gauge 1 coaches for stock in time for the summer. Eleven are in BR maroon with Midland prefixes and two in Carmine and Cream with Western prefix. Details of these can be found on the RTR available off the shelf section within the Gauge 1 part of the website. The cost of these is £660.00 each or £635.00 each when buying four or more in one transaction. If there are specific liveries you are after we can also complete these Gauge 1 coaches with the customer's choice of livery and either clean or weathered which normally takes 3 monthes to complete.
NEWS 21st June 2018
Heljan have now confirmed the price of the forthcoming English Electric Class 50's. The model will be based on the refurbished Class 50. We are taking advance orders for these now for despatch when they are released but there has been no confirmed release dates as of yet but hopefully towards the end of the year
We have now received the first CAD images from Heljan thought they are still at an early stage of development and are subject to improvement.
Following the success of the centre headcode Class 37/0 Heljan announced at Warley Show the production of a Class 37/4 which should be released early 2019. It is still in the early stages at this point but they have given us a proposed list of liveries that will be produced but this may well change. They have have today confirmed the price of the Class 37/4 and I have updated the webpage with the prices. We are taking advance orders for these now and I will update the website as and when we get more information in the coming months.
Whilst mentioning Class 37's it is worth mentioning we still have very limited stocks of the centre headcode Class 37/0 in later liveries but only a handful are left.
NEWS 5th June 2018
Lots of images today from Dapol after Doncaster show along with some updates on release schedules along with the official announcement in regard to the launch of the Class 121.
Dapol have informed us of a price error on the cost of the forthcoming Class 122. The price for the DCC and sound equipped version is wrong and should of been £499.00 RRP and not £454.00 as initially announced (Our price as a result now £424.15) Hopefully this should be available around the end of the year
Following on from the Class 122 Dapol have also announced a Class 121 which should come into stock Spring 2019. We are taking advance orders for this now for despatch as soon as they become available

Dapol announced the release of BR Mk1 coaches the end of last year and we have now had the first test sample images of these. Initially there will be four versions (SK,SO,CK & BSK) in a choice of 5 liveries both numbered and un-number and finally there is also the option of DCC fitted as well. This makes a total of 90 different coaches and I have now listed all of these by either type or by livery to make it easier to browse. Release date is hopefully late 2018. We are taking advance orders for these now for despatch as soon as they become available.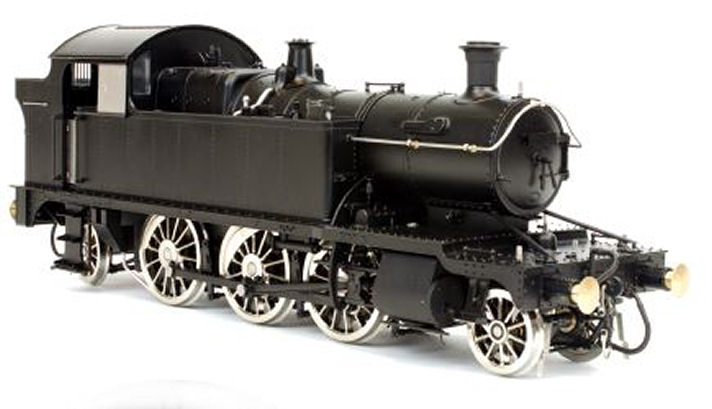 Dapol 45xx 2-6-2 Prairie Tanks
This project has been running a little behind schedule but Dapol have been working on improvements to the original Lionheart model which have taken some time to complete. Hopefully it should finally be released in the Autumn. Quantities being produced will be low so advance ordering is highly recommended to avoid any potential disappointment. These are diecast model rather than plastic at very keen prices.
I have today updated the section of the website covering items that are either the end of the line, discontinued or no longer stocked. All items are new but offered at clearance prices. Full details of the items are shown in the relavant sections of the website. Once sold, it is unlikely that there will be any more unless the manufacturer decides to re-issue them, in which case the price will be much higher. I have also listed the final few On30 items that we have available on clearance here as well.
NEWS 23rd May 2018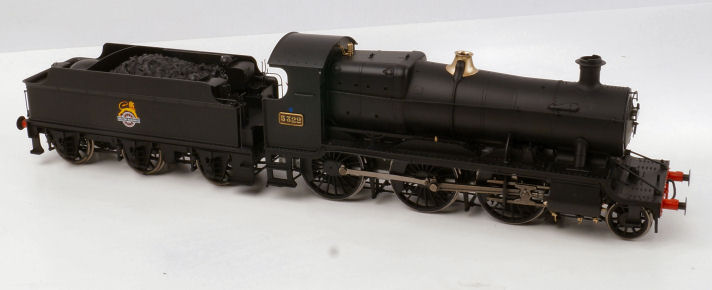 We have just received the updated test samples for the forthcoming Heljan 43xx Mogul due for release later this year. We are taking advance orders for these now and it is worth mentioning that only a very small number of these pre-numbered Limited Editions are being made so advance ordering is highly recommended as they are at the same cost as the standard un-numbered models being produced by Heljan.
NEWS 18th May 2018
New Bachmann Scenecraft 'O' gauge Items
Bachmann have just announced yet another O gauge building for release early 2019 for a Depot mess room and toilets. I have now added this to the other six new Bachmann Scenecraft items that have been announce for release around the middle of this year. I have not yet had confirmation on the release date for the new item but I would imagine it will be around Autumn. We are taking advance orders for these now for despatch as soon as they become available. As and when we get a better idea of the launch date I will update the website.
NEWS13th April 2018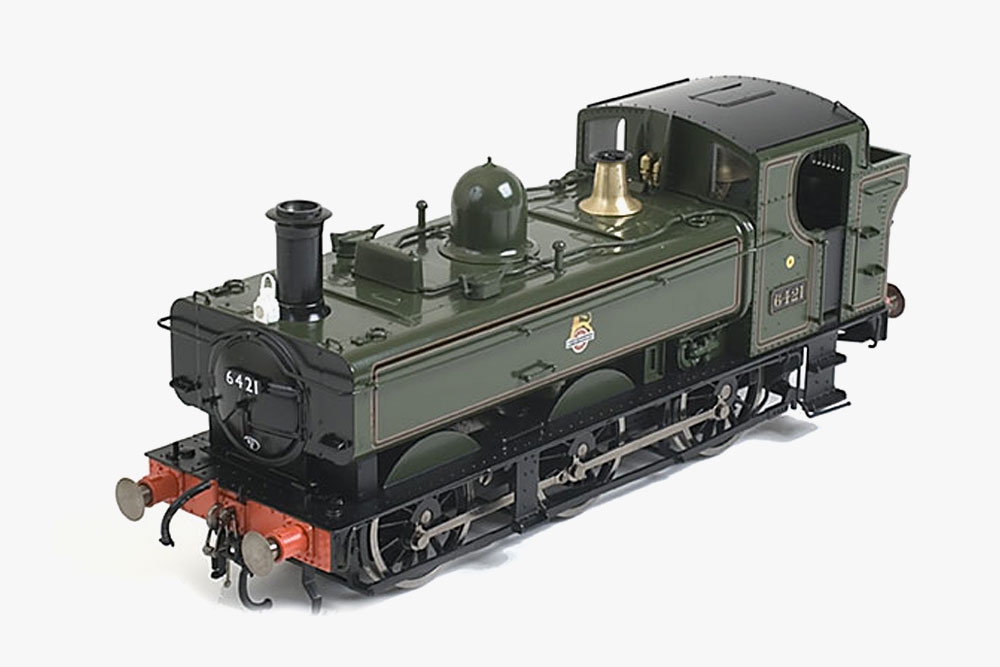 NEWS 4th April 2018
Heljan Class 55 Deltics
We have now completely sold out of these in both BR Green with small yellow panels and BR blue with yellow ends. We still have a very small number of the Tower Models Limited Edition all green available on a first come first served basis but do not expect these to last long now.

The workshop has just completed the first weathered example of the Class 128 Parcel single car for sale off the shelf. HJ8950 represents the BR blue with yellow ends without gangway doors and has been lightly weathered and is available for immediate despatch at £515.00 post free to mainland UK addresses.
NEWS 22nd February 2018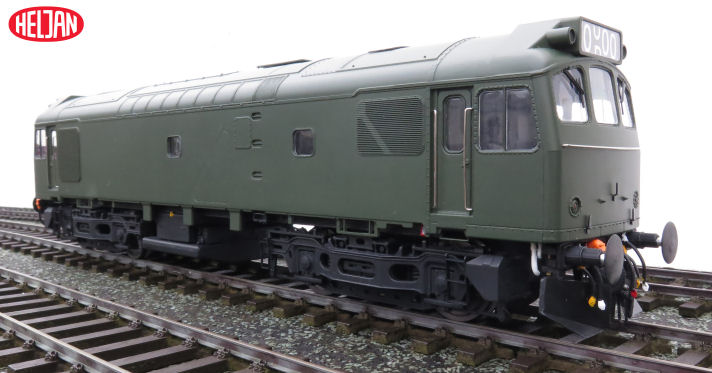 At Telford show last year Heljan announced the production of the Class 25/3. Today they have confirmed the liveries that will be produced and settled the price for this loco. We have now also received test sample images for the loco and are now taking advance orders for these now. As always we are offering our workshop service for both numbering and weathering the loco with the customer's choice of number along with the option for souynd equipping if required..
NEWS 15th February 2018

The re-run of the Dapol O gauge Suburban coaches are now available. Alternatively we also have a good selection of 2 and 4 car units in all liveries available from the 2017 issue of the suburban coaches. All advance orders for these should be completed later on today.
NEWS 8th February 2018
Late last year we have introduced a very special offer on the Heljan O gauge Falcons and is only whilst stock last and once they have all gone, it cannot be repeated. . We have now sold out of the standard green and BR blue and are down to a handful of the Lime Green and Brown. First come first served on this deal as stocks are very limited.
| | | | |
| --- | --- | --- | --- |
| Ref. | Description | List Price | Special Price |
| HJ5350 | BR Lime Green & Brown #D0280 | £699.00 | £395.00 |
| HJ5351 | BR Two Tone Green with yellow warning panels #D0280 | SOLD OUT | SOLD OUT |
| HJ5352 | BR Blue with yellow ends #1200 | SOLD OUT | SOLD OUT |
NEWS 8th January 2018
Heljan Class 47's
We have had confirmation today that Heljan intend re-tooling the Class 47 in 2019 and re-running these desireable models.
The class 47 has been synonymous with the UK railway scene since their introduction in 1962. The Heljan 'O' gauge class 47 was originally released back in 2006 and they feel it is now worth re-visiting and so development is now well underway on a completely re-tooled model.
There will be two versions; the 'as-built' Brush type 4/class 47 and later variant; both will feature 'full' rather than 'cut-away' bufferbeams, but will incorporate a number of detail differences and liveries reflecting some of the many changes/developments the class has been through during their long lives.
No details as of yet but over the next 12 months as we learn more about which versions and liveries we will create a webpage for the loco and start taking advance orders but it is too early at this stage.
NEWS 16th December 2017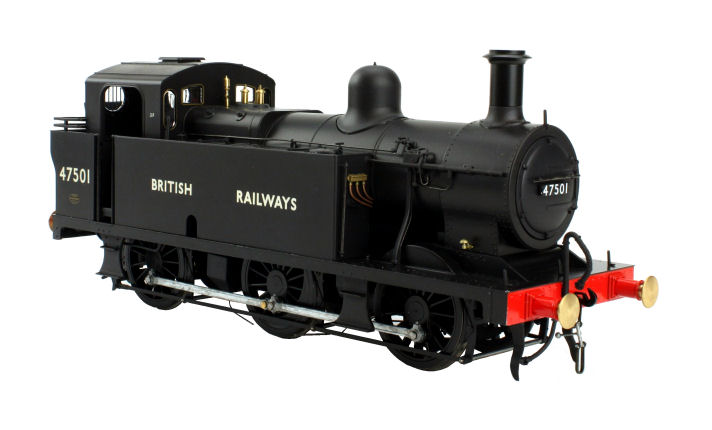 Stocks are now running very low on the recently released Dapol Jinty in O gauge and we expect to run out of several more versions before Christmas at the current rate. This has been a very successful launch by Dapol and represent superb value for money. I have updated the page for the Jintys with the remaining numbers where they are down to single figures.
We also offer our weathering service for those who wish to take advantage of this and also our numbering service for people who wish to purchase an un-numbered model to have it finished with their choice of number but these would be completed the far side of Christmas at this late stage.
NEWS 5th December 2017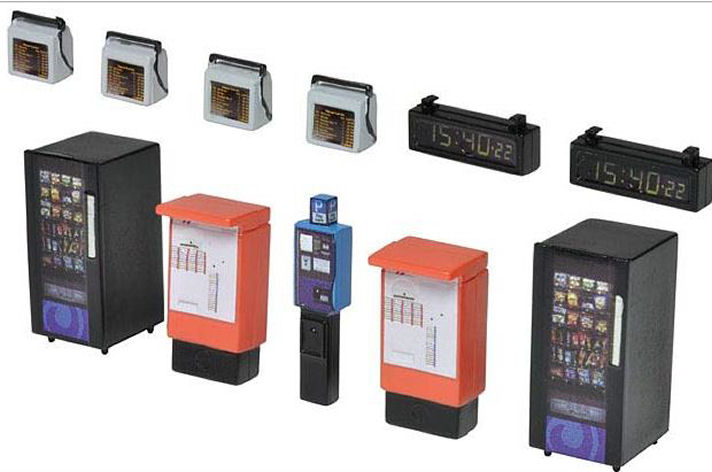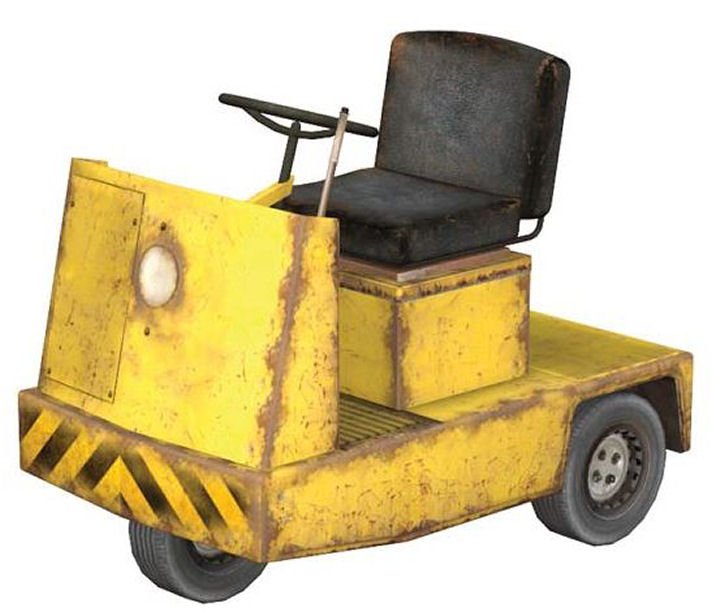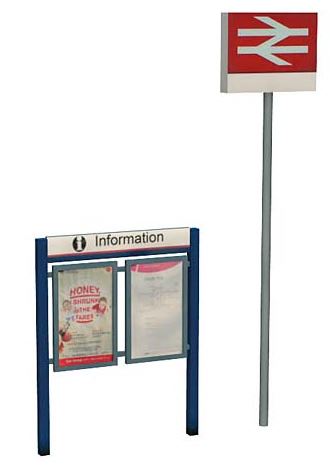 New Bachmann Scenecraft 'O' gauge Trackside Items
We have now received restocks of the recently released Bachmann Scenecraft O gauge trackside accessories. The platform tractor has been an extremely popular set and only just reappeared after the initial production launch.
NEWS 28th October 2017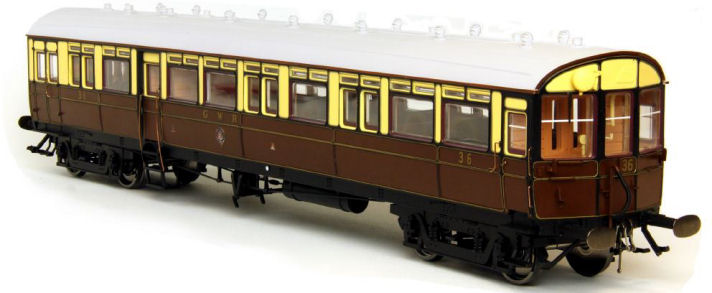 Dapol 'O' gauge GWR / BR Autocoaches update
Well it has been an interesting 36 hours with the unexpected arrival of the Dapol Autocoaches. We have been working our way through all the advance orders as quickly as possible to arrange despatch and suitable days for delivery. Hopefully over the coming weeks we should also see the versions with lights, lights and DCC and Light DCC & Sound appearing but no indication from Dapol as to the time frame for these as of yet but hopefully it should not be too long.
NEWS 17th October 2017
Although still a long time off yet I have updated the website with the latest information and images from Heljan in regard to the Class 03 diesel shunter due for release late next year. They have now confirmed there will be 4 options for each of the three basic liveries; conical chimney both numbered and un-numbered and then flower pot chimney both numbered and un-numbered. We are taking advance orders for these now for despatch as and when they do become available. Price is yet to be confirmed sadly but hopefully we should have a better idea of this before Christmas.
Dapol 9 foot wheelbase RCH Open Wagons
I have now generated the webpages for these along with the new pages for the Salt and Lime Van. We are already taking advance orders for all liveries now.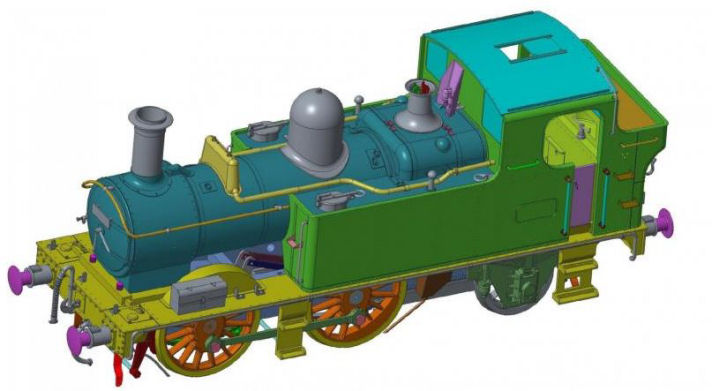 At Telford show Dapol announced the launch of the 48xx / 58xx / 14xx 0-4-2 for production late 2018. There are several options of each type with the changes through the life of the loco and the options of autofitted. Overall, including both the DCC fitted and DCC sound options along with the option of un-numbered for those customers who wish to complete the loco as their own specific loco there are fifty versions being produced!
We will also be offering our completing service for these locos for those people who wish to have their own number applied by our workshops and also the option of weathering if required. Numbering with the customers own number costs an additonal £35.00, weathering an additional £25.00.
We are taking advance orders for these now for despatch as soon as they become available. The DCC and sound fitting is being done here in the UK so will become available a few weeks after the standard models.
New Dapol (ex-Lionheart) Coke Wagons for 2018 announced
Dapol have also announced a re-run of the ex-Lionheart Coke wagons for early next year. They have initially announced 7 planks, 7 planks with coke rails and 8 planks in various liveries. Again we are taking advance orders for these now for despatch as soon as they become available.
NEWS 27th July 2017

Tower Brass 'O' gauge Collett Coaches
We are now down to the eight of the Tower Brass Collett Corridor coaches. We have just completed one fully finished D127 in BR Carmine & Cream livery for £420.00.
Stocks are getting very low across all remaining liveries. We have already completely sold out of the green with small yellow panels, Raifreight Grey, BR blue with full yellow ends.
As always we are also offering our numbering and weathering service through the workshops should customer's wish to take advantage of this service. Numbering a loco is just £25.00, numbering and weathering an additional £65.00. This usually take 7-10 days to complete. We can also do named examples if required at an additional £25.00 subject to the number of plates required and this can take up to 6 weeks as the name plates are made specially to order. In regard to the Large Logo Blue Class 37's it is not quite so easy as these often also feature the various depot logos and also the unusual large numbering. In the case of these there is an additional £5.00 for the depot logos and £10.00 charge for the large loco numbering. This large loco number also features on the Railfreight Red Stripe livery.
There is also the option of sound fitting as well through the workshops at an additional £310.00 using the ESU v4.0 XL chip.
NEWS 11th May 2017
We have now had delivery of all of the Heljan Class 45's and have completed all advance orders for these. For those customers who have asked us to number,name or weather the Class 45's, these are currently being processed through the workshops but please be patient as we have completed the first of these this week (un-weathered only so far) with the rest should work their way through the workshops in the next two weeks. We currently have stocks available for immediate despatch for those people who did not take advantage of our advance ordering system but be warned, stocks are running low already and Heljan have now confirmed they have completely sold out of the Class 45's. I have updated the details with the current stock situation and we have now sold out fo the first version, the Class 45 blue and factory weathered which have now all gone..
NEWS 8th May 2017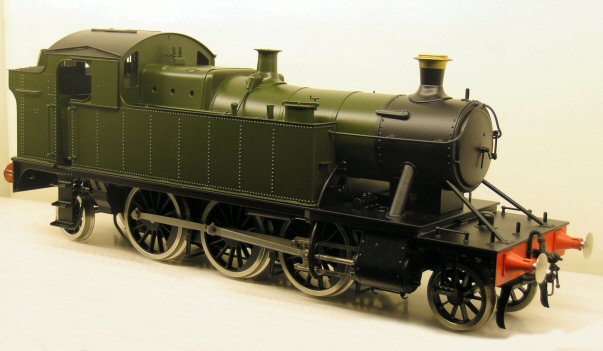 We bought all of Bachmann's remaining stock of 45xx and 4575 Prairie Tanks in Gauge 1 several years ago. We can now confirm that we have now sold out of the 4575's and are down to the last one 4575 and we are down to the last six 45xx flat top Prairies. These can be supplied "as is" in plain green, no number or insignia or, alternatively they can be supplied fully finished in either any GWR or BR livery for an additional charge. We have two fully finished Gauge 1 45xx's available off the shelf; 4512 in BR late crest un-lined green and clean finish at £1035.00 and 4555 in BR lined green early crest clean finish at £1090.00. Once these have sold there will be no more as the factory that made them has closed.
Lionheart 'O' gauge GWR / BR Suburban coaches update
Two weeks ago Dapol released the Great Western liveries of their new suburban coaches along with the first two liveries of the BR liveried coaches (LHT603 & LHT623) which have been well received and represent superb value for money. We have now bought all remaining stocks of the Great Western coaches and Dapol have no stocks. We have now sold out of the first of the Great Western sets (LHT601 Kingsbridge) and have a limited quantity of the others available. I have updated the webpage with the numbers as we count down to a sell out!
We have now received all of the BR liveries as well and sold out completely of the single coaches and also LHT605 already!
NEWS 30th March 2017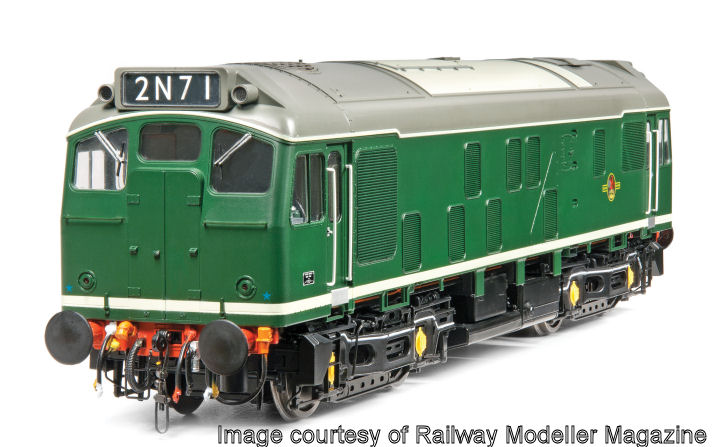 We have just done a stock take and we are now running very low on all four liveries of the Class 25 and thought it better to give people fair warning of the stock situation before we run out. There is also the option of our numbering and weathering service available for these for those people who want to take advantage of it at just £25.00 for numbering the loco and £40.00 for weathering if required with your choice of light, light body with medium chassis and roof, medium or heavy weathering.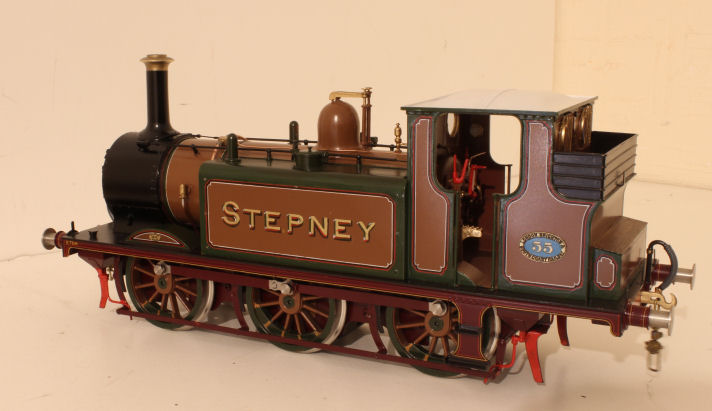 Most people think of Tower Models only as the UK's largest stockist of 'O' gauge. Apart from this we are also a major supplier of Gauge 1 locomotives, coaches and track. Shown here is a Tower Brass Terrier in Gauge 1 recently completed for a customer. This locomotive was hand lettered and lined in our workshops. We currently can offer a range of locomotives and coaches both off the shelf or completed to order.
NEWS 31st January 2017
Heljan Class 40 and Class 55
We bought all of Heljan's remaining stocks of both the Class 40's and Class 55 Deltics some time ago. We have already sold out of two liveries of the Class 40 and one livery of the Class 55. We are now down to just a couple of dozen each of the blue Class 40, the limited edition all green Deltic and the green with yellow warning panels Deltic. We are giving fair warning that stocks are now running low. If you want one of the above, you have a very limited time before stocks are exhausted.
NEWS 19th January 2017

We have now received the brand new Heljan modern depot.. It has been designed to be modular and very adaptable to a number of situations and locations. Add-on packs are also available to extend the main kit either adding extra roads or additonal depth. Photo shows the first sample which has been painted; kit will be moulded in single colour plastic. Please note that the side bay 'bars' will also be duplicated on the lower panels on production examples.
If you have not already advance ordered one of these we are still taking orders for this for immediate despatch once they have arrived and full details can be found on the relevant pages of the website.


Heljan 'O' gauge AC Railbus Special Offer
We have now bought the last remaining stocks of the AC railbus in both Light Green with speed whiskers and dark green with small yellow panels from Heljan and are happy to announce a special offer on these two versions that will run until we have sold out. The RRP on these two liveries is £495.00 with our normal price £395.00 each. The Special offer is just £299.95 whilst stocks last is on a first come first served basis.
There are very few of the Dark Green with Speed Whiskers available and the offer does not apply to this livery as there are so few of these available and it has always been the most popular livery.
We can offer our weathering service for an extra £25.00. We can also sound fit the railcars for an additional £175.00.
NEWS 20th October 2016
We have stocked On30 since it was first intorduced in the late 1990's. Bachmann have produced an excellent range of products and we have had a good run with them. However, nothing lasts for ever and we have decided to stop stocking this range and clear all remaining stock at prices between 33% and 50% below the recommended retail price. We have altered the On30 section of our website to give an accurate list of just which items we have in stock, along with the clearance prices. This list will be updated daily until everything is sold. If the item you are looking for is not on the list, then we do not have it in stock and cannot obtain it. There will be no further deductions or bulk deals. Items are being sold at cost or below cost price so there is no room for further discounts. Orders over £150.00 sent post free to UK mainland addresses. The title to this paragraph is a link through to the remaining clearance stock.
NEWS 3rd June 2016
In a recent press release Heljan have now announced a Class 03 diesel shunter. Although it is still very much early days we can confirm it will be as built with the vacuum brakes. Several liveries will be available and will be unnumbered with conical and flowerpot type exhausts. I have now created a page for these and we are taking advance orders for them now though the price has yet to be determined. There may well be further liveries announced and I will update the page as and when we get more information. Release expected early 2018.
NEWS 9th November 2015
Following the sale of the Tower Collection range of 'O' gauge kits to Ian Atkinson we are pleased to announce that most of the range will be available again in November.
We will be able to despatch most orders within a couple of days, however, the bulk of the stock will not be held here so anyone wishing to collect a Tower Collection kit from the shop or at any show we are attending needs to give us a few days warning to ensure we have one available.
Ian is accepting commissions to supply locos fully finished to customer's requirements. Customers are welcome to make their enquiries to us and we will pass them on to Ian.
NEWS 3rd September 2015
DJH 'OO' loco kit clearance
We are down to our last few DJH 'OO' locomotive kits so have decided to clear them off at bargain prices. We have only a couple of each in stock and both types are now discontinued by DJH.
K77 BR Standard Class 4 with BR 1b tender No's 75065-75079 (Southern Region)
These kits come complete with Romford wheels and were priced at £174.50. To clear £117.50. Motor and gears available separately.
NEWS 4th November 2014
Bachmann Scenecraft 'O' gauge Building Offer.
We have bought all of Bachmann's remaining stock of the above buildings range and can offer the following items on a limited offer whilst stocks last.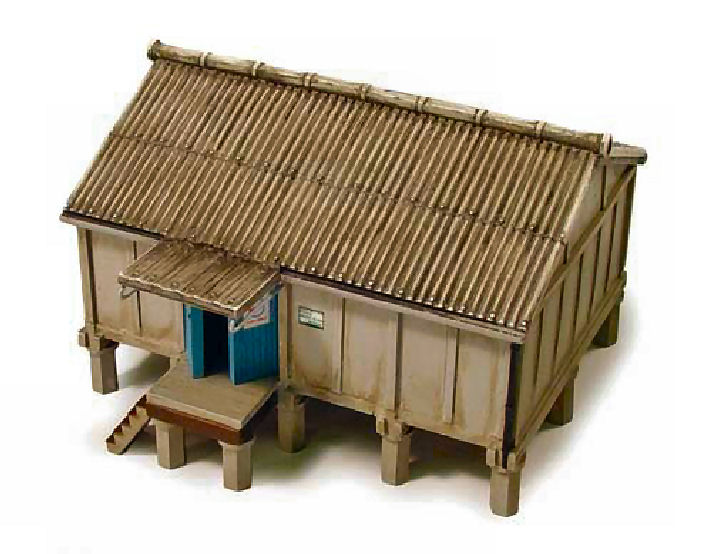 | | | | |
| --- | --- | --- | --- |
| Ref. | Description | RRP | Offer |
| 47-009 | Single Road Engine Shed - (Footprint of the building is 257mm x 155mm x 189mm) | £99.95 | £60.00 |
| 47-004 | Provender Store - (Footprint of the building is 200mm x 175mm x 125mm) | £49.95 | £30.00 |
NEWS 7th August 2012
Heljan 'O' gauge gears, A statement.
There appears to be a rumour going around model railway websites that there is a widespread problem with gears splitting on Heljan 'O' gauge diesels. As the largest stockist of Heljan 'O' gauge and with consistantly high sales since the range was first introduced we feel it essential to present the facts to the public rather than destructive "Chinese Whispers"
On the very rare occasions we have seen split gears it is only with Class 35 Hymeks and Class 47 diesels. In all cases the locomotives had considerable amounts of running and it must be stressed that replacement gears are available from Heljan's service agent; Howes of Oxford. Unlike certain other model railway manufacturers, Heljan have always tried to provide spares.
Tower Models are not the service agent, so we do not carry a full range of spares. However when there is a known problem such as broken vacuum pipes on the Class 33's we obtain spares from Heljan and provide them to our customers. ( Note this is our customers; anyone buying elsewhere should contact their supplier. )
Overall we have had very few problems with any of the Heljan 'O' gauge range. If there were on going problems then Heljan would not of won "Model of the Year" competition so many times, or have so many repeat customers. It is a pity that such vindictive rumours can be spread and accepted by so many as true. Anyone with a split gear should contact Howes of Oxford. Anyone who has not got a split gear should stop worrying about something that probably will never happen. As we have said, it is an incredibly rare event given the total numbers sold.
NEWS 8th September 2010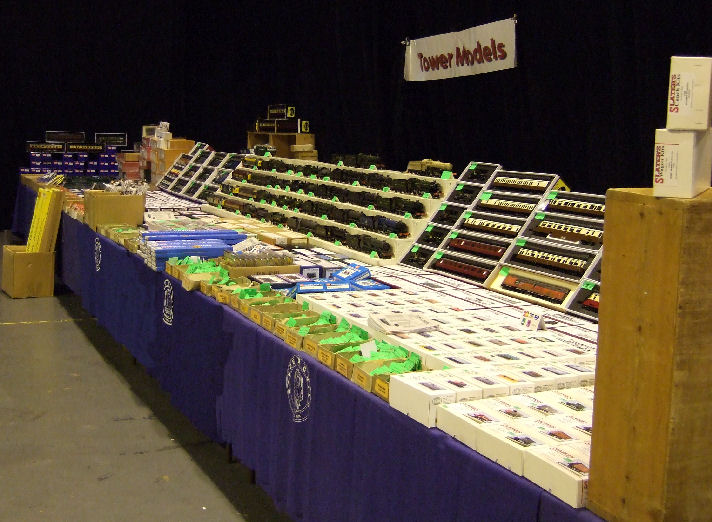 Gauge 'O' Guild Telford Show.
Given the current economic climate Telford show went very well, the stand look very well and was commented upon by several people and we were proud of our display, so much so we thought we would put an image up of the stand. For anyone who is into 'O' gauge and has never attended the show it is the premiere 'O' gauge event of the year and cannot be rivalled for both variety and quality. If there is only one show you can attend in the year, this should be it and if considering coming from overseas this is the show you should aim to attend. The show was extremely well organised had a good atmosphere.
A REALITY CHECK ON CUSTOMER EXPECTATIONS
We offer a wide range of kits and ready-to-run items from a number of sources. our aim is to offer a quality product at an affordable price. This seems to satisfy 99% of our customers. However, there appears to be a growing number of people in the model railway fraternity who expect perfection for a pitance of a price. Let me make it clear that the perfect model does not exist. It is utterly unreasonable to expect full working inside motion on any of the models we sell or any other complex working details that can barely be seen, especially at the price and no, the cab gauges don't really work! All our items are for standard 'O' gauge finescale. They are made from plastic, resin, white metal, pewter and brass. They are powered by electric motors. Real locomotives are made from iron, steel, brass and copper. they are powered by steam, diesel or electricity. If anyone wants to duplicate all the features of a real locomotive may I suggest he buys a real one. They are much bigger than ours and cost many times more than the ones we sell. At the end of the day model railways are big boys toys and meant to be fun, let's not forget it.